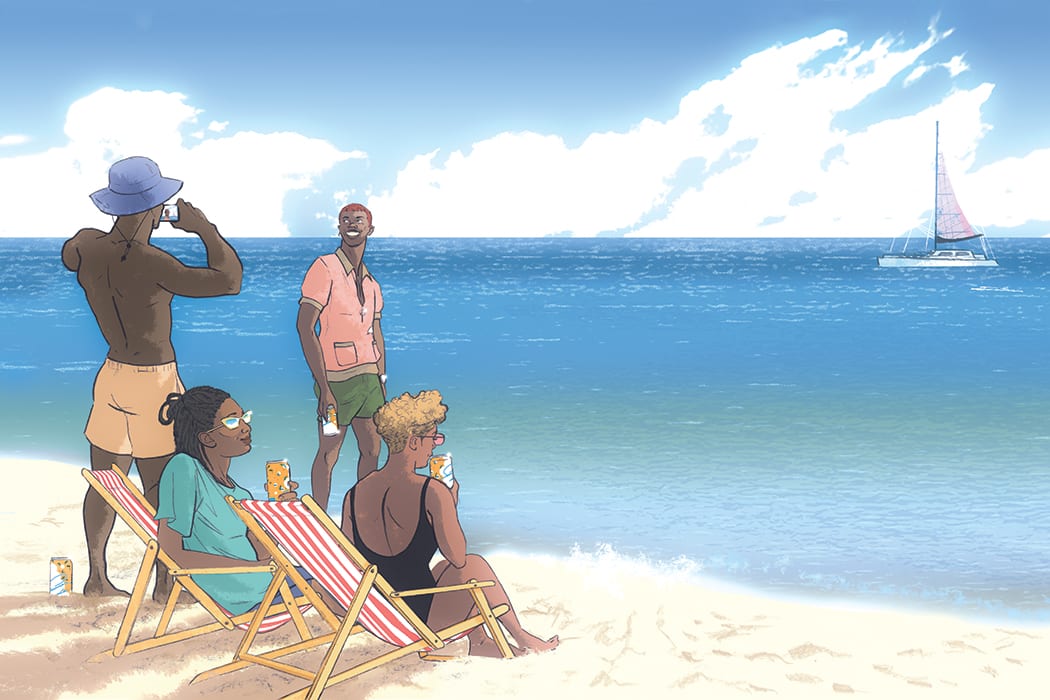 Until a couple of years ago, Anchor Brewing's seasonal beers took their labeling cues from a calendar. "That was the way of the world," says Anchor brewmaster Scott Ungermann. BigLeaf Maple Autumn Red made way for Winter Wheat and Christmas Ale, then Spring Saison warmed the stage for Summer Wheat.
Anchor began brewing the light-bodied golden ale in 1984, making it America's first wheat beer since Prohibition, a new symbol of summertime fun. Cleanly refreshing, with a head fluffier than cumulus clouds, Summer Wheat was a welcome friend at barbeques and backyard gatherings, wherever good times were found and sunshine beamed down.
Clouds inevitably gather. Cans started sticking around past Labor Day, Summer Wheat looking odd after summer's unofficial end, like wearing a swimsuit while apple picking. "Summer Wheat lingering on the shelf until October is noticeably out of season," Ungermann says.
A few years ago, the brewery killed its summertime darling, its slot assigned to San Franpsycho IPA. The fruity IPA is packed with peach and apricot purée, evoking summer without stitching seasonality to its name—or release date. The IPA rides from early summer through December. "It's a beautiful year-round beer, if you want it to be," Ungermann says.
This is shaping up to be an uncertain summer, both in the world and in beer. In simpler times, warming weather heralded the arrival of easygoing seasonal beers, here for the summer and then sayonara before kids return to school. Beer drinkers anticipated their arrival, shiny new objects amid the all-year mainstays, packed inside coolers alongside ice-cold light lagers.
Summer beers now swim in a crowded sea, susceptible to "the volatility of newness," Ungermann says. "Because [a seasonal] goes away and comes back again, it's new every year. But you can really only be truly new once." Compounding matters, breweries are also battling hard seltzer's rise, as well as a surge of alternative beverages such as hard kombucha shellacked with a wellness veneer.
In response, breweries are warming up fresh approaches to summer coolers. Yuengling now offers the low-carb FLIGHT light lager, and Bell's brews the Light Hearted Ale, the 110-calorie little brother to its flagship Two Hearted Ale IPA. Schlafly Brewing swaps malt for honey to ferment its Boomerang mead spritzers, while the 132-year-old F.X. Matt creates the Saranac Green Tea Spiked Seltzers. Leinenkugel's seltzer-spiked Sprit-zen is a 93-calorie beer flavored with the likes of grapefruit or raspberry and lemon. "Nobody else out there right now has this combination of two things that people really love," says Katie Leinenkugel, the brewery's brand strategy and engagement lead and sixth-generation family member.
An Occasion to Drink Beer
The American summer doesn't sweat everyone equally. New Orleans is a nonstop sauna. Portland, Maine, is pleasantly cool at night. Phoenix tops 100 degrees nearly daily. Climate can dictate comfort, clothing, and the kind of beer you consume.
D.G. Yuengling & Son, based in Pottsville, Pennsylvania, distributes its lagers across 22 states, from Massachusetts to Florida's southern tip. "Along our footprint, we see that when people are drinking full-flavored, winter beers up North, they're drinking lighter, refreshing beers down South," says Wendy Yuengling-Baker, the chief administrative officer and a sixth-generation member of the family business.
In 2017, the brewery discontinued its Summer Wheat, a traditional German hefeweizen, and began revamping its portfolio around the idea of "year-round refreshment" and sessionable beers, Yuengling-Baker says. In 2018, Yuengling released Golden Pilsner, followed by this year's takeoff of FLIGHT, a 95-calorie lager featuring 2.6 grams of carbs per 12-ounce serving. Instead of fitting weather patterns, "it's all about the occasions," Yuengling-Baker says.
SweetWater doesn't designate its seasonal beers according to any three-month stretch. Instead, the Atlanta brewery builds brands that align lifestyle and liquid. For example, SweetWater polled outdoor guides to help formulate the 110-calorie Guide Beer: A Lager, its 4 percent ABV suited for daytime drinking sessions. The launch last year was successful, says Brian Miesieski, SweetWater's VP of marketing, but the brewery recently doubled down on lifestyle by rebranding Guide Beer as a "lager for our great outdoors." The cans feature photographs of summer adventures including fishing and mountain biking, the branding and beer style communicating a clear message. "It's a lighter, lower-calorie lager with lifestyle baked in," he says.
Speaking of baked, SweetWater's summer lineup also includes Super Silver Haze Lager, the latest release in its cannabis-inspired 420 Strain Series. The nimble lager flaunts its namesake strain's herbal, citrusy profile and a beach-worthy 4 percent ABV. "We're not dubbing it the Summer Super Silver Haze Lager," Miesieski says, but the beer is "the type of liquid you want for summer occasions."
By most measures, Jolly Pumpkin's Bam Bière should sit in the pantheon of perfect summer beers. The farmhouse ale drinks as bright as midafternoon sun, spritzy and cutting with squeezed-lime acidity, its ABV and calorie count slinking low enough to win a limbo contest.
Yet Bam rarely shows up to the pool, lake, or beach, mainly because it's not properly attired for outdoor occasions. For nearly 15 years, the Dexter, Michigan, brewery has bottled the Belgian-style ale, which spends several months fermenting in oak foudres with naturally occurring wild yeast. Bam's large-format bottle is both handsome and highly clunky for, say, drinking while floating on a lake. "I'd take bottles on a canoe but it was like, 'What am I doing? This is kind of crazy,' " says Tony Grant, the CEO and CFO of Northern United Brewing, Jolly Pumpkin's parent company. The beer's summery message was lost in a bottle, so the brewery sought to alter the narrative. "We say there is a direct correlation between cans and coastline," Grant says.
Jolly Pumpkin spent some 18 months figuring out how to package Bam and the spiced Calabaza Blanca witbier in 16-ounce cans, which hit retailers in April. The fresh format also features new nutritional messaging on the sales sheet, retrofitting the oak-aged beers for a wellness-obsessed world. Did you know that Bam has only 127 calories per 12-ounce serving? "These are lighter beers that you can take out and have in the summer," Grant says.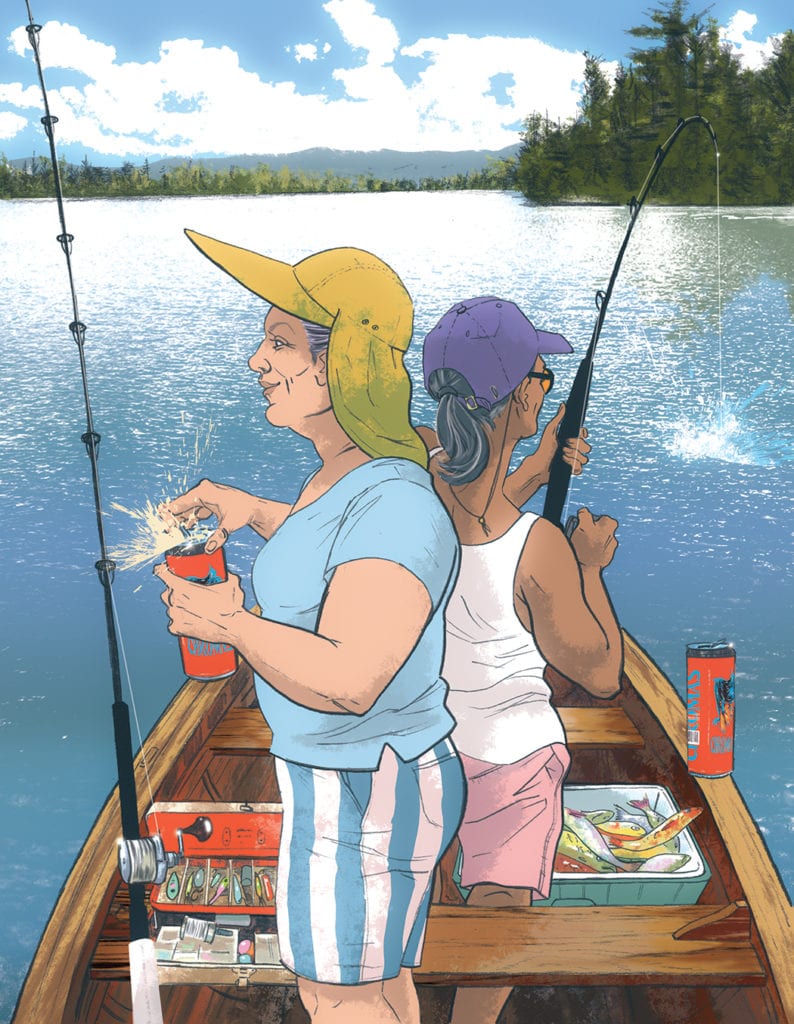 Fighting the Fizz
Hard seltzer might be the alcohol industry's neatest magic trick. Cane sugar is fermented clean, filtered to nothingness, flavored to taste like fruit, canned in 100-calorie servings—and the finished product then makes conventional beer sales vanish. The fad is a fixture, fizzing across the drinking landscape and loosening beer's tanned grip on koozies.
Breweries are responding to the incursion—increasingly fortified by hard kombucha, wine spritzers, and ready-to-drink cocktails—by thinking outside the brew kettle for the next great summer beverage. "There are only so many claims you can make with a seltzer that, by definition, is something that doesn't have flavor," says Lindsey Willey, the director of Beyond Beer for Brewers Collective, the craft business unit of Anheuser-Busch InBev.
By and large, companies aren't crushing black cherries, pressing limes, or juicing watermelons to pep up hard seltzers, instead using laboratory-manufactured natural flavors. Brewers Collective is betting that folks want real fruit flavorings with its new LQD line of cocktail-like malt beverages. Launched in March, LQD's canned lineup includes hard green teas infused with passion fruit or peach, plus agave nectar–sweetened limeade. "We're working to make sure that there's a better-for-you option in this space," Willey says. Willey sees LQD positioned alongside hard seltzers, "drawing off anyone looking for something a little different."
New Belgium hopes to siphon hard seltzer drinkers. In 2018, the brewery released Mural, a 110-calorie nod to the Mexican agua fresca, infused with watermelon, lime, and hibiscus. (New Belgium collaborated on Mural with Mexico City's Cervecería Primus.) Mural fit into the seltzer sphere calorie-wise, and the vivid pink liquid stood out in a glass, but the squat 12-ounce can screamed beer. This spring, New Belgium revamped Mural's look with a brightly colorful label, seltzer-appropriate slim cans, and a variety pack—the top format for hard seltzers—including mango-orange and berry-guava versions. "We're trying to get that seltzer drinker who is shopping to notice us," says research and development brewer Cody Reif, adding that the brewery's consumer testing found that seltzer drinkers favored Mural. "It wasn't necessarily about redoing what we're doing from a liquid standpoint. It was just getting seltzer drinkers to turn their heads."
Breweries are also making seltzer moves, too. Night Shift Brewing touts that its Hoot hard seltzers are fermented with wine yeast, while Avery makes the "glacier-spiked" Sparkle hard seltzer. High-minded SweetWater fans can also stuff their coolers with the Hydroponics series of cannabis-scented "hard and heady" seltzer, and the newly rebranded Molson Coors Beverage Company makes the Vitamin C–packed Vizzy, featuring the so-called "acerola superfruit."
The Boston Beer Company now squeezes out Truly Lemonade Hard Seltzer in four versions, including strawberry and mango. They're somewhat sweet, refreshingly acidic, super-flavorful, and land in the 100-calorie bull's-eye. "Lemonade is a very natural extension onto seltzer," says product development manager and Truly inventor Casey O'Neill. "Many hard seltzer drinkers see hard lemonade as the most similar alcoholic beverage."
Wisconsin brewery Leinenkugel's has long been sweet on lemonade, mixing it with weiss beer to create Summer Shandy, a seasonal bellwether. "It symbolizes that summer is coming," Katie Leinenkugel says. "For me, shandy is that first sip of summer." Since its 2007 release, Summer Shandy has become Leinenkugel's best-selling beer, available in every state. But sales are slumping, declining more than 11 percent last year. "There's no doubt that the seltzer space has taken some of our drinkers," president Dick Leinenkugel says.
The company adapted to changing times and tastes with Spritzen. It splashes alcohol-free seltzer into a light beer base, resulting in a crisp 93-calorie refresher offered in pineapple-strawberry, raspberry-lemon, or grapefruit. "When we went into this, my father was like, 'I don't drink seltzers,' " Katie Leinenkugel says. "He tasted it and said, 'God, I could drink those because they're so light.' "
Spritzen succeeds because it's not a square peg hammered into a seltzer circle. The beer sits in Leinenkugel's wheelhouse of blending German tradition with American innovation. "The worst thing that you can do as a brewery is be inauthentic to who you are," Katie Leinenkugel says. "We're a 153-year-old German brewery, so we try to balance that heritage when creating new products for drinkers today."
A Simple Approach
Humans often overcomplicate things, especially in a beer world that treats excess as excellent innovation. But summertime embodies unfussy refreshment.
Last year, Schlafly lead brewer Jared Williamson had the idea to make a session-strength mead, spinning honey into a low-calorie spritzer. He batted around potential flavors with his brewing team, who suggested looking to shrubs, aperitifs, digestifs, and cocktails. Neat notions, sure, but an amaro-inspired mead spritzer might not be destined for a broad audience. "They were still thinking like brewers," Williamson says. While they wandered left field, "I'm somewhere in between home plate and first base, trying to keep it simple."
Crowd-pleasing lemon-lime became the launch flavor for Boomerang, a line of 90-calorie, gluten-free mead spritzers. They're fermented bone-dry with the brewery's American ale yeast, which lends fruity esters that complement the residual honey sheen. Boomerang is light, citrusy, and phantom-sweet, the kind of crusher I could envision drinking poolside at 3 p.m.
Certain flavors can serve as seasonal cues, and lime tops the summer list, a mental beach vacation even if you're landlocked at home. You'll get the urge to apply sunscreen while sipping Summit Brewing's kölsch-style Cabin Crusher, crowded with lime peel and purée, as well as the Stone Mexican-style Buenaveza lager that's laced with sea salt and lime. New Belgium's limited-edition Sparkling Lime Lager also has serious summer vibes. "I took one sip and was like, 'Next time I'm on a boat, this is what I'm going to be drinking,' " says Ross Koenigs, a New Belgium research and development brewer. "Through the medium of beer, you're able to transport people to imagining a set of experiences they aspire to be in."
The best summer beers and beverages are never solely about the liquid. They're an alchemic combination of setting, flavor, and company. This summer will not spell the death knell for domestic lager, nor will hard seltzer wipe away the competition in a crystal clear, naturally flavored tsunami. "If you go back the past 10 or 20 years, alternative alcohol beverages have always been part of the mix," says SweetWater's Miesieski. "They've never fully replaced beers."
Our coolers will be a united states of taste, cannabis-scented seltzers close by lime lagers, classic lagers, session IPAs, boozy green teas, and even oak-conditioned sour ales. There'll be something for everyone, no matter if we're Zooming together or zooming to get together, fancying a drink to make our happy places even happier. "I can't wait to sit by the water and enjoy a Calabaza Blanca," Jolly Pumpkin's Grant says of the wood-aged witbier. "That's something I've been thinking about for nearly two years. I'm pumped to be able to do that this summer."
---
Did you enjoy this article? Get more of the best of liquid culture when you sign up for a print or digital subscription to Imbibe Magazine. Click here for special savings!