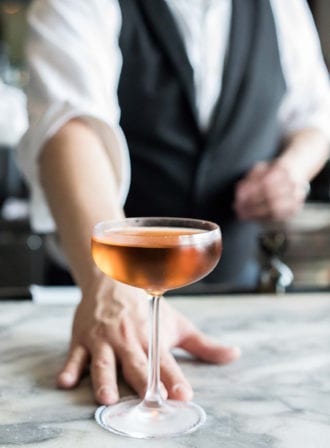 Petit Trois takes the classic Manhattan in a wintry direction with the addition of alpine liqueur.
2 oz. single malt whiskey
¾ oz. Genepy des Alpes
¾ oz. sweet vermouth
Orange peel
Tools: mixing glass, barspoon
Glass: coupe
Combine the ingredients in a mixing glass with ice and stir until chilled. Strain into a chilled coupe. Twist an orange peel over the drink and discard.
Courtney Rose, Petit Trois, Los Angeles
---
Like what you see? Get more of the best of liquid culture when you sign up for our bi-monthly magazine. Subscribe now and save up to 59%—it's just $21.95 for one year or $32.95 for two years. Click here for details.