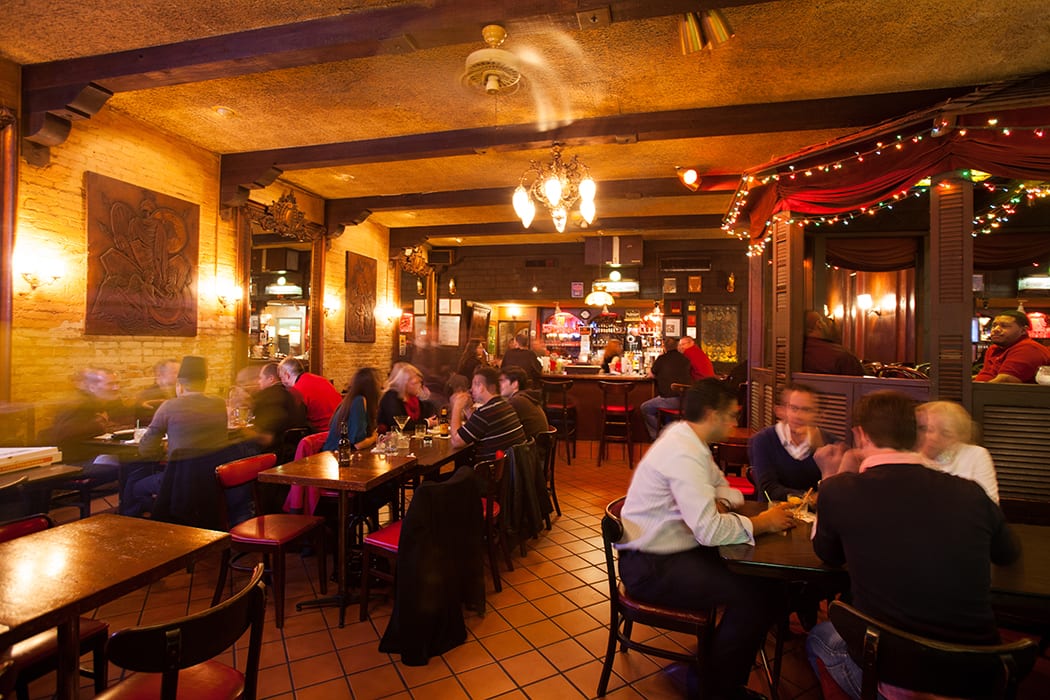 Texas dive bars need two things to be successful: air conditioning and cold drinks. In Houston's up-and-coming Market Square neighborhood, locals and tourists head to Warren's Inn for both. "Whenever we have people visit, we always take them there for at least one drink because it's a stalwart of the neighborhood," says The Pass & Provisions chef Terrence Gallivan of the downtown institution. "It's been there forever, and everyone knows it, especially folks in our industry."
While modern cocktail and wine bars have started to blanket the Market Square neighborhood over the last few years, Warren's is comfortably entering its golden age without glitz or glamour. Named after the late Warren Trousdale, the bar opened in 1978 and moved into its current space, complete with bright neon sign, in 1987, when Trousdale's sister Carolyn Wenglar took over operations. Locals say the aesthetic has barely shifted since. The same vintage chandeliers, mirrors and other decorations all came from the original location. "It's not a dive bar because it's shitty. It's divey because it's old and dark and dated. Nothing has been taken off or put on the walls in 20 years," Gallivan says.
Inside the space the bartenders are friendly enough but don't go out of their way to accommodate special requests, Gallivan adds. "You aren't going there if you want a really nice Manhattan. They'd look at you weird if you order a swizzle."
The service is usually quick, and while Lone Stars and shots of whiskey are a common sight in the bar's Christmas light-bedecked indoor gazebo, the draw for many guests is the heavy-handed, unmeasured pour method that defines the mixed drinks. "I got a Bloody Mary there once that was pink because the vodka to Bloody Mary mix ratio was so off," Gallivan laughs. "It will cure your hangover almost instantly."
For local chefs like Gallivan and crew, it's the perfect spot for blowing off steam after a long restaurant shift, but for everyone else, Warren's is an "every man's kind of bar," with a democratic attitude and enough history to attract people from all walks of life—tourists, bartenders, theater-goers and young rowdy hipsters find common ground there. Gallivan believes things will stay that way for years to come, thanks to the bar's location and ambience. "When I think dive bar, I think more of a Cheers-like setting where you know people in there because they're regulars and the bartender has been there for 10 years and he knows what you drink—that's Warren's."
---
Did you enjoy this recipe? Sign up for our newsletter and get our favorite drink recipes of the moment in your inbox every month.