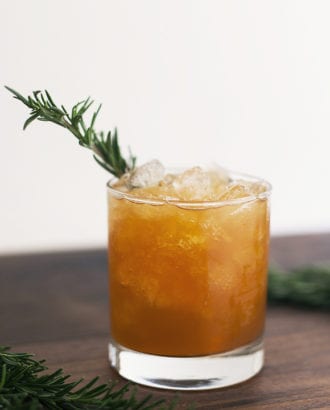 Slay that summer swelter with this iced tea mocktail. The rooibos called for in this recipe is infused with lemongrass and marigold, but you can substitute any other rooibos you have on hand.
10 oz. brewed Lemoncello Organic Rooibos Tea
1 oz. fresh lime juice
2 oz. simple syrup (1:1)
1 sprig of rosemary
1 dash of orange bitters
Tools: shaker, strainer
Glass: rocks
Garnish: rosemary sprig
Brew the tea (4 tsp. of loose tea steeped in 10 oz. of hot water), then chill with ice. In a shaker, muddle a sprig of rosemary. Add the tea, lime and simple syrup and shake vigorously. Strain into 2 glasses filled with crushed ice. Add a dash of orange bitters and stir. Garnish.
David Barenholtz, American Tea Room, Los Angeles