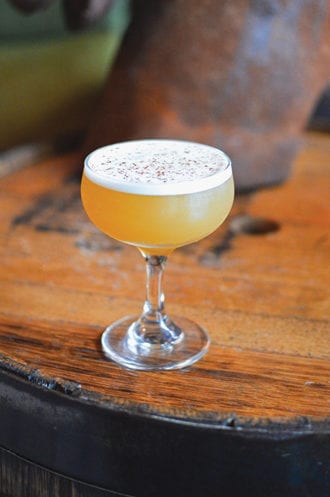 Earthy turmeric gives this vodka sour a distinctive savory quality.
2 oz. turmeric-infused vodka
¾ oz. honey syrup (1:1)
1 oz. fresh lemon juice
½ oz. fresh egg white (pasteurized if you like)
1 dash aromatic bitters
Tools: shaker, strainer
Glass: coupe
Garnish: grated cinnamon
Shake all the ingredients with ice to chill. Strain and discard the ice, then return the drink to the shaker and dry shake. Pour into a chilled glass and top with cinnamon.
Turmeric-Infused Vodka: Fill a quart jar about ¾ full of thick-sliced fresh turmeric root. Top with vodka and allow to infuse for at least 2 weeks, or to taste. Strain and rebottle for use.
James Hirsh, Bourbon on Rye, Lexington, Kentucky
---
Did you enjoy this recipe? Sign up for our newsletter and get weekly recipes and articles in your inbox.