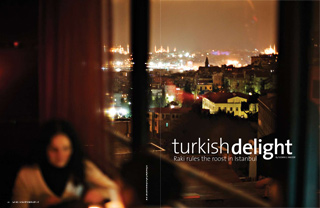 The empty raki bottle just won't cut it anymore. Since I was last in Istanbul, more than three decades ago, the final licorice-scented fumes from a souvenir bottle of the Turkish national drink have been a poor substitute for the vibrant images they evoke.
Like Proust, I am transported years and miles away by an aroma-induced reverie. Spread out before me as I inhale is a vision of dozens of small white plates, each holding mouth-watering meze, or appetizers. A parade of humanity that would make Toulouse Lautrec grab for his paintbox weaves by my table. Gypsy musicians follow in their wake, warbling ancient songs of love and loss.
But this time, it's not just a dream. I really am in Çiçek Pasaji ("flower arcade"), a restaurant-lined alley in the heart of the old European section of Istanbul that's been famous for generations as a primo site for drinking raki. I've finally made good on a long-held resolution to return to this marvelous city where I once lived. A lot has changed since I was last there in the '70s: New to me are skyscrapers, a subway, malls and McDonald's. But it warms my heart to see that not even the passage of 30 years has changed the way Turks drink raki.
In Istanbul, raki (spelled in Turkish with an undotted i and pronounced "rock-uh") is not just a distilled spirit; it's part of a cultural event, a major production that involves all the senses and many emotions. And drinking it without the appropriate atmosphere, company, music and food is simply not done.
Although raki is known as the Turkish national drink, it's not distinctive to Turkey. In fact, it's similar to any number of anise-flavored liquors that are enjoyed throughout the Middle East, the Balkans and parts of Europe, namely, pastis in France, sambuca in Italy and ouzo in Greece.
The granddaddy of them all is arak, which is native to Arab countries. The word raki is derived from arak, which means "sweat" in Arabic and refers to the condensation of the distillation process. Arak, as well as raki, is the double-distilled fermented pulp from already-juiced grapes, sometimes from the liquid of soaked raisins and sometimes from actual grape juice. It's distilled in copper alembics with aniseed added in the second distillation.
Raki is never consumed straight. Otherwise, it wouldn't fit the description of arslan sütü, or "lion's milk," the Turks' name for this beverage. The proper way to serve it is to pour about two ounces of raki's clear liquid into a tall, thin glass, and then add water to top it off. The water turns the raki a milky white color. An ice cube or two as a finishing touch is optional.
Because drinking raki is a cultural activity, not a solitary enterprise, the drink is never enjoyed without good company or good food. Once a group of friends sits down to drink, a prerequisite before the first toast is a table spread with meze, appetizers such as rice-stuffed mussel shells, cucumber and yogurt salad, plump shrimp tossed with oil and lemon juice, deep-fried calamari, pickled beets, roasted eggplant, bean salad and myriad other selections.
In Çiçek Pasaji, meze are selected from a huge wooden tray brought to the table and displayed by the waiter. Although small white plates holding about two dozen options fill the tray, those aren't the only choices. It's almost a given that raki drinkers will also instruct the waiter to bring generous slices of beyaz peynir ("white cheese," or feta) and kavun (muskmelon).
These two dishes are the foundation of a raki drinking session; the salty, firm cheese and the sweet, refreshing melon are considered to be the most complementary foods eaten with raki. But part of the fun is ordering such a variety of savory treats that the tablecloth disappears beneath the layer of small white plates, sometimes double-stacked. A basket brimming with slices of fresh bread completes the picture.
Well, almost. There's still the matter of music. Raki drinkers count on wandering bands of Gypsy musicians to enhance their moods, whether they're feeling morose or jubilant. At Çiçek Pasaji, there are usually several quartets of musicians prancing from table to table. One man plays the violin, another the clarinet, one plays either a drum or a tambourine and another plucks the many strings of a zither. All the musicians sing along, even the clarinet player, between riffs.
The friends, the food, the music—all are essential and time-honored ingredients of raki culture. Even among some devout Muslims, raki drinking is a welcome pastime. They believe raki is a divine gift from a benevolent God—and a way to get around the Koranic stricture against drinking wine.
A Glass With Friends
Despite Turkey's Muslim majority, the country produces a variety of wines, mostly from local grapes, but varietals including Cabernet Sauvignon, Merlot, Chardonnay and Sauvignon Blanc, as well. Some vineyards date back to Roman times. One of the best-known wine brands, Doluca, has vineyards that have been in production for millennia, well before the birth of Christ. The winery operation itself, located along the Sea of Marmara, was established in 1926, three years after the founding of the secular Turkish republic.
A hefty tax makes the price of the better Turkish wines prohibitive, except for wealthy wine drinkers, who tend to serve wine while socializing, rather than dining. Raki is still the preferred accompaniment to cuisine.
For those who abstain from alcohol, ayran, a salty yogurt drink made by mixing equal parts of yogurt and water and adding a little salt, is surprisingly refreshing, and a sweeter choice is sherbet. In Ottoman times, sherbet, the Turkish word for a fruity beverage, was enjoyed by everyone from pashas to peasants. At the Konyali Restaurant in Istanbul's Topkapi Palace museum, if you order sherbet you'll be served a tall, cool glass of ruby-red plum juice. It's the same beverage that was served in this palace for centuries to ambassadors as they waited to meet with the Ottoman sultan.
But the most widely consumed beverage—morning, noon and night—is Turkish tea, or çay (pronounced "chai"). Brewed from black tea leaves grown along Turkey's Black Sea coast, it is served in delicate glasses that hold no more than three ounces of the amber liquid. The glasses have no handle, so are held at the rim with the thumb and index finger. A tiny saucer holds a few sugar cubes and a little spoon for stirring.
Turkish coffee, with its thick grounds filling much of the demitasse, dates back several centuries. It's made from beans that are ground almost to a powder, then cooked with water—and often sugar—in a small metal pot called a cezve (known as an ibrik). After the coffee has boiled up almost to the top about three times, it's ready to pour.
Tea accompanied by bread, cheese and olives is a breakfast drink. Purchased from a tea seller on a ferry boat crossing the Sea of Marmara, it's a commuter's drink. Served as a courtesy by merchants, it's a shopper's drink. Coffee, though widely available and enjoyed, is not as ubiquitous. But when ordering coffee, one needs to indicate a preference for sade (plain) or şekerli (sweetened), since sugar can't be added after the coffee is served. Now with a Starbucks in many Istanbul neighborhoods, telling fortunes from reading Turkish coffee grounds spilled into the saucer may be a dying art.
One of the loveliest places to relax and enjoy a glass of Turkish tea is the Pierre Loti Café, sitting high above the Golden Horn at a viewpoint favored by Loti, a 19th-century French writer. Waiters in traditional Ottoman garb serve tea to visitors who have either ridden the aerial tram or hiked up the steep hill to enjoy a spectacular panorama of Istanbul, encompassing both new and old.
The Pierre Loti Café is typical of traditional tea and coffeehouses, where customers may while away much of the day over a few cups of tea or coffee. It's not unusual to see friends playing backgammon for hours, occasionally summoning the waiter for another glass of tea or a demitasse of coffee. In smaller towns of Turkey, such places are for men only. The women, meanwhile, do their socializing at the hamam, or Turkish bath.
Drinking It In
These days, among the ancient Byzantine ruins and the stately Ottoman mosques and palaces, you'll find more and more trendy hangouts of the modern denizens of Istanbul. New bars and restaurants provide stark contrast to some of the more traditional places. With modern cocktail bars in nearly every direction, especially in the neighborhood of Beyoglu, where clubs and restaurants line the busy main drag of Istiklal Street, I wonder if raki has lost its charm for young Turks. For my answer I go to 360, the rooftop restaurant and bar on Istiklal Street that takes its name from the sweeping view of the mosques of the old city, the ferry traffic along the Golden Horn and the quiet Asian side of Istanbul that sits across the Bosphorus Strait.
Selçuk Gengeç is the bartender whose fresh-fruit-based drinks attract droves of people every night as the deejays or live musicians perform. For those who can't read the drinks menu in the dark, a reader board flashes in red lights over the bar, listing the most popular cocktails. House originals such as the Sashah Faction and the Stop the Bomb earned Gengeç Time Out magazine's award for Istanbul's Best Barman in 2006.
"Do you like raki?" I ask him.
"Of course!" he answers. "I drink it once a week. It's tradition!"
Gengeç hails from southeastern Turkey, where raki drinkers substitute the standard accompaniment of a glass of plain water with şalgam, or fermented turnip juice, alternating sips.
He even came up with a variation on the standard mix of raki and water. He adds cucumber juice to a few ounces of raki and stirs it with a celery stick. He calls it the Bosphorus.
Certain Istanbul streets and neighborhoods are renowned as lively settings for drinking raki. There's Çiçek Pasaji, of course, and neighboring Nevizade Street. Another is the seaside neighborhood of Kumkapi. On one side of the highway, along the Sea of Marmara, is a large fish market. On the other side is a district of fish restaurants, scores of them, side-by-side, one after another, with tables and chairs spilling out onto the neon-lit, cobblestone streets.
Waiters call to passers-by trying to entice them to sit and begin a meal, but every restaurant is pretty much the same, offering drinks and lots of meze before the main course. The most popular drink among diners is raki, ordered by either the bottle or the glass, with a shot poured into a tall thin raki glass and water added at the table. By the time the fish course is served, Gypsy musicians are warbling next to the table.
This is raki culture at its best. I know I'll be nostalgic for every detail of this familiar scene after I leave Turkey. Determined to take something of this culture home with me, I stock up on raki at the Istanbul airport's duty-free shop where prices are lower and brands are plentiful. Now it will be a long time before I have merely an empty bottle to summon memories of Istanbul.