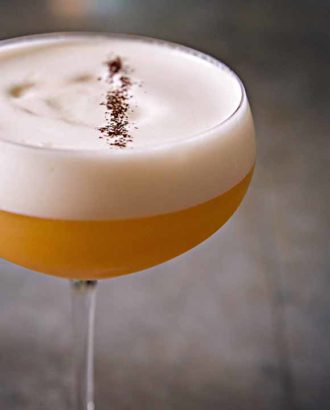 Tea tannins bring an underlying dryness to this frothy Cognac cocktail from Dallas.
1½ oz. Courvoisier VSOP Cognac
1¼ oz. earl grey tea syrup
¾ oz. fresh lemon juice
1 fresh egg white (pasteurized if you like)
Brut Champagne
Earl grey tea
Tools: shaker, strainer
Glass: coupe
Garnish: finely crushed earl grey tea leaves
Combine the first 4 ingredients in a shaker and shake vigorously without ice to emulsify the egg white. Add ice and shake again to chill. Double strain into a coupe and slowly pour about 2 ounces of Champagne on top. Garnish.
Earl Grey Tea Syrup: Mix 1 cup of boiling water and 1 cup of sugar and stir until the sugar is almost completely dissolved. When it reaches this point and the mixture is still super hot, add a few sachets of loose leaf earl grey tea leaves. Steep it for about 20 minutes to get the most concentrated flavor. Strain and let cool before using.
Griffin Lawler, Café on the Green Assistant Manager, Four Seasons Dallas