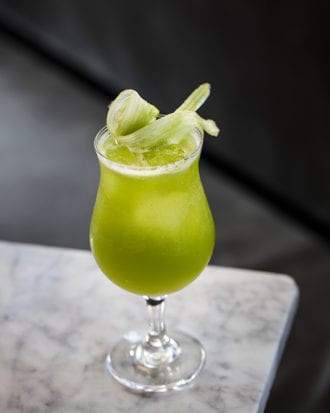 For this cocktail, Sunday in Brooklyn head bartender Brian Evans was inspired by the tonic drinking culture of Spain. "The way gin tonics and vermouth tonics were enjoyed, it made me realize tonic's understated ability to enhance vegetal and herbal flavors while toning down sweeter flavors," he says.
1½ oz. tequila blanco
½ oz. Salers aperitif
½ oz. fresh lime juice
½ oz. pineapple juice
½ oz. fresh celery juice
½ oz. vanilla syrup
Tonic water
Tools: shaker, strainer
Glass: hurricane
Garnish: celery ribbons
Combine all the ingredients except the tonic water in a shaker tin with ice and shake briefly to combine. Strain into a glass filled with ice and top with tonic water. Garnish.
Vanilla Syrup: Split 1 vanilla bean pod and scrape the filling into 2 cups of hot water. Combine with 2 cups of white sugar, and stir until the sugar is dissolved. Allow to cool, then strain into a jar and keep in the fridge for up to 2 weeks.
Brian Evans, Sunday in Brooklyn, NYC
---
Did you enjoy this recipe? Sign up for our newsletter and get our favorite drink recipes of the moment in your inbox every month.