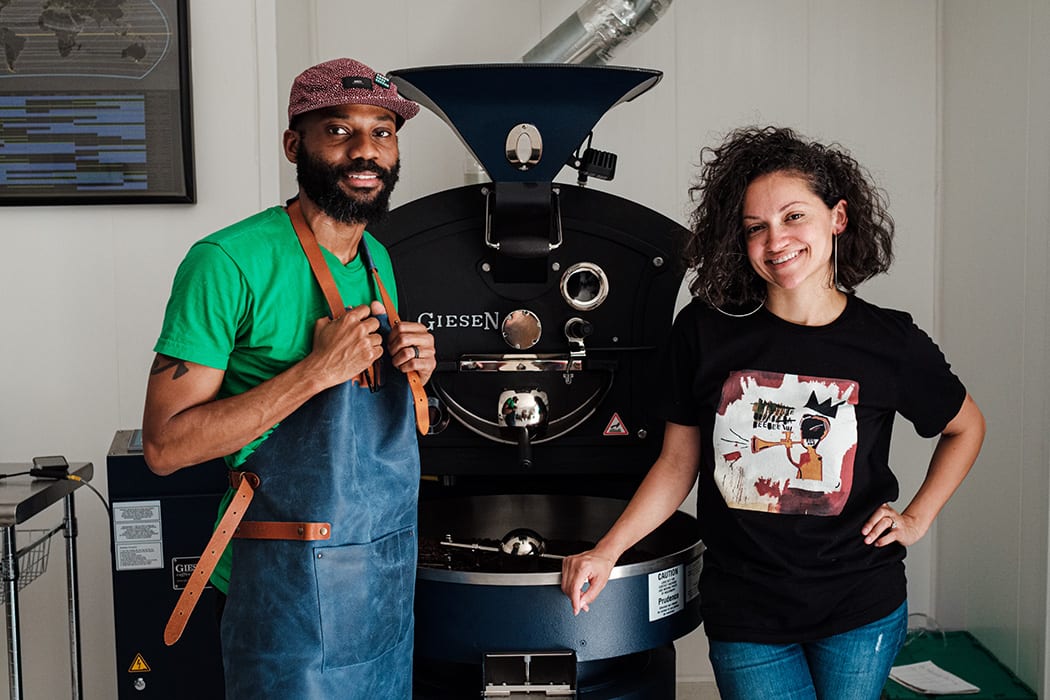 For Tio and Kenzel Fallen, a combination of wanderlust and a love of coffee and classic jazz inspired their Houston coffee roastery, Three Keys Coffee. "Tio is the head roaster—he played trumpet for 15 years, so the name comes from the three keys of the trumpet," says Kenzel.
Before opening in late 2019, the Fallens had been roasting at home and visiting coffee regions around the world before deciding to enter the industry professionally. "We were captivated by the origin stories in these regions, the majesty and beauty, but it was really being a regular coffee consumer and connecting with local baristas and building relationships in that world that eventually translated into being a part of this," says Tio.
With a background in mechanical engineering, Tio's approach to roasting is part art and part science. "I think back to learning classical music—the part of the brain you use to learn how to read music and diagnose different notes and time signatures has a mathematical feel to it, as does the science behind roasting. There are things like thermal dynamics at play and reactions that happen on a time-based scale that affect the profile. Both require bringing intuition to the table, asking, 'How can I bring a personal touch to it' to find that balance of flavor (or harmony)," he says. "What you get with us is that culmination of art, ingenuity, and creativity."
Aiming for a style of coffee that's structured, balanced and smooth, the Fallens strive to roast beans that will taste consistently excellent regardless of the brewing and serving method. "It was painstaking to get to this point," Kenzel says. "We try to bring that art and science to it, with the right analysis to make sure the coffees are consistent, but then also the gut feeling needed to figure out how to get the right profile from a bean." 
Featuring both single-origin coffees and blends, each batch takes its name from the musical realm, and many also have curated playlists to match the character of the coffee. To create the playlists, the Fallens team up with Jarritt Sheel, an accomplished musician, DJ and assistant professor at Berklee College of Music in Boston. "He has an extensive library and knowledge to pull together sounds that will complement the coffee," says Tio. "We like to think about what sound or tonal resonance we want to convey to the audience and he puts the lists together." 
For the Bossa Nova, a single-origin coffee from Brazil, the playlist fittingly brings unique sounds of Latin jazz to the table, while the house signature blend is called 33⅓, a nod to the original LP format of records, which "brought music to the masses, if you will," Tio explains. "33⅓ captures that nostalgic feel you get from the coffee, that classic jazz sound," he says of the playlist, citing artists like Miles Davis, Dizzy Gillespie, John Coltrane and other greats as emblematic of the mood.
"More people are brewing coffee at home right now, with COVID-19, so the playlists work especially well in that respect," adds Kenzel. "People can work at home and have the music playing the background while they drink our coffee. It is a pleasantly surprising thing to come out of all this." Here's a sample of the 33⅓ playlist, and you can hear the entire list on Spotify.
---
Did you enjoy this article? Get more of the best of liquid culture when you sign up for a print or digital subscription to Imbibe Magazine. Click here for special savings!