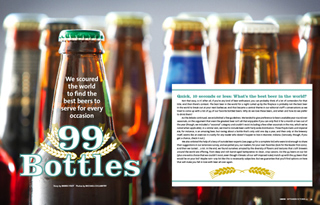 Quick, 10 seconds or less: What's the best beer in the world?
Not that easy, is it? After all, if you're any kind of beer enthusiast, you can probably think of a lot of contenders for that title. And then there's context: The best beer in the world for a night curled up by the fireplace is probably not the best beer in the world to break out at your next barbecue. And that became a central theme in our editorial staff's conversations as we tried to come up with a list of 99 of our favorite bottled beers for our Sept/Oct issue: Why do we love these beers, and when and how do we prefer to drink them?
As the debate continued, we established a few guidelines. We tended to give preference to beers available year-round over seasonals, on the argument that even the greatest beer isn't all that enjoyable if you can only find it for a month or two out of the year (though, we included a "seasonal" category and couldn't resist including a few other seasonals in the mix, which we've noted when applicable). In a similar vein, we tried to include beers with fairly wide distribution: Three Floyds Dark Lord Imperial Ale, for instance, is an amazing beer, but raving about a bottle that's only sold one day a year, and then only at the brewery itself, seems like an exercise in cruelty for any reader who doesn't happen to live in Munster, Indiana. (Seriously, though, if you get a chance, check it out.)
We also enlisted the help of a bevy of outside beer experts who were kind enough to share their suggestions in our extensive survey (see list below), and we polled our readers for their favorites. Then we tasted … a lot. In the end, we found ourselves amazed by the diversity of flavors and textures that craft brewers around the world are offering, from deep and rich barrel-aged barleywines to clean, crisp saisons. Do the 99 beers on our list (plus one extra choice that we couldn't resist, even though it breaks all our self-imposed rules) match up with the 99 beers that would be on your list? Maybe not—any list like this is necessarily subjective. But we guarantee that you'll find options on here that will make you fall in love with beer all over again.
Here's a sneak peek of 10 of the beers from our list of 100 (note that the beers on our list are unranked and appear in no particular order). For the full list, check out the Sept/Oct 2009 issue of Imbibe.