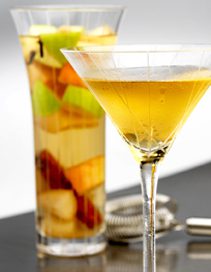 2 oz. pear-infused tequila
1/2 oz. yellow Chartreuse
1/2 oz. applejack bonded
Tools: shaker, strainer
Glass: coupe or cocktail
Garnish: thin pear slice
Stir ingredients with ice in a shaker and strain into a chilled glass. Garnish.
Pear-Infused Tequila: Cut 3 Bartlett pears and 1 Granny Smith apple into cubes (peels, cores and all), and place in a jar. Add 2 cloves and 1 cinnamon stick and 1 liter of silver tequila. Store for 6 days, shaking periodically. Double-strain the fruit and spices out and keep refrigerated.
Brian Miller, Death + Company, New York City