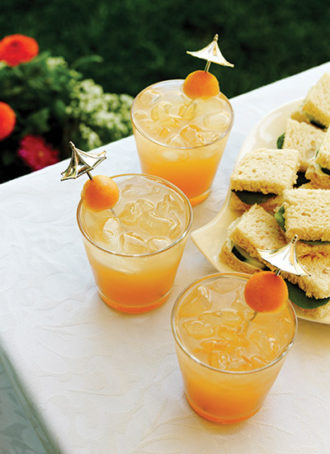 Kelley Swenson says his inspiration for this mocktail recipe came from using dried chamomile flowers (from chamomile tea) as a garnish, which reminded him of sun-dried hay.
5 1-inch cubes cantaloupe
¾ oz. chamomile tea, cooled
½ oz. rich simple syrup (2:1)
½ oz. fresh lemon juice
Tools: muddler, shaker, strainer, fine strainer
Glass: rocks
Garnish: chamomile flowers (dried or fresh) or small melon ball
Fill a shaker with melon and ice. Muddle through the ice, breaking up the melon into  bits. Add the tea, syrup and lemon. Shake vigorously. Fine-strain into an ice-filled glass and garnish.
Kelley Swenson, Portland, Oregon