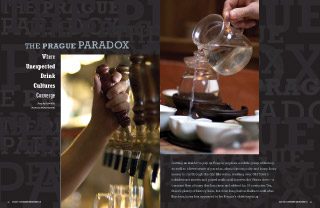 Getting an insider's grip on Prague requires a subtle grasp of history, as well as a keen sense of paradox, absurd incongruity and irony. Irony seems to run through the city like water, washing over Old Town's cobblestone streets and pastel walls until it meets the Vltava river—a constant flow of irony that has risen and ebbed for 10 centuries. Yes, there's plenty of history here, but from long before Kafka to well after Kundera, irony has appeared to be Prague's chief export.
Dance With the Green Fairy
Take absinthe. It's generally recognized that it was the discovery in Prague of a Czech absinthe, Hill's, that kicked off the end-of-millennium absinthe revival. Yet most real fans, soi-disant absintheurs, won't go near Czech absinthe nowadays. And with good reason, as Hill's and most others are a far cry from the nuanced drink that fuelled writers, artists and bon vivants in fin-de-siecle Paris. Kelly green as opposed to olive or clear, Hill's is like something you'd clean your windows with, but only if you didn't like your windows very much.
That's stage-one irony; Prague can do better. For example, there's a new Czech absinthe called Toulouse-Lautrec that has surprised a few absintheurs in blind tastings. It's clear, rather than nuclear green, and when you add water, it forms an admirable white cloud, or "louche." It has a rich anise flavor with some serious complexity (Blackberries? Pine? Leather?) and is getting quite a buzz for a Czech drink, making it exactly the kind of thing you wouldn't mind taking home for a souvenir. And yet, when I call the distiller, Ales Mikulu, I learn that Toulouse-Lautrec is not readily available in Prague, at least not in any shops or bars.
That sounds like the you-can't-get-therefrom- here city I know and love: a great Czech drink that's impossible to find when you're actually in the Czech Republic. But where there are walls, there are ways through them—what the Czechs call misi diry, or "mouse holes"—and within a few days I was tasting Toulouse-Lautrec with Max Munson, an American expatriate who owns a pub called Jáma.
"Hemingway drank it like this," Munson says, first adding a few cubes of ice to his glass then stirring in a dose of ice water to form an opaque cloud. "Regular Czech absinthe gets credit only for starting the wave of interest. But this is actually a civilized, cultured aperitif."
Cultured, sure, but also lip-lickingly delicious, reminiscent of the pastis I used to drink in Paris, but with more layers of flavor. It's easy to see what attracted painters Henri de Toulouse- Lautrec and Vincent Van Gogh to the drink—an intense set of flavors that invites contemplation and inspires a mild euphoria.
Jáma may be the only bar in town to serve a decent, French-style absinthe, but it is definitely not a City of Lights kind of place. It's one of a number of Prague bars that mix the best aspects of hard-drinking American dives and beery Czech pubs (hospody), a combination that somehow doubles the alcohol consumption rather than merely averaging it out. It's a place where Czech and American cultures collide and complement each other, from the Tex-Mex dishes on the dinner menu to the pilsners on tap.

Make It a Pilsner
When it comes to beer, pilsner is it: 95 percent of what is drunk in the Czech Republic are pilsner-style lagers, a recipe originated by Pilsner Urquell in the Czech town of Pilsen in 1842. Soon after, the style—the world's first clear golden beer—spread across the country and around the globe to become the most popular in the world. Though other brands may sell more, Czechs love Pilsner Urquell, regularly rating it the highest in overall quality and, unlike the rest of the world, calling only it and no other beer by the name "pilsner."
There's some irony in that as well. Though champagne and tokaji producers have fought and won battles for protected designation of origin status (the exclusive rights to use certain names based on geography), there is no plan to reclaim the name "pilsner" for only those brews that come from Pilsen, which, of course, is what the name means. So although Pilsner Urquell is a rich, deep gold made from 100% malted barley, the same name is also used by watery, flavorless American beers that are adulterated with cheaper, less-flavorful corn and rice. Side by side, Pilsner Urquell and a mass-market American "pilsner" are about as similar as Château Margaux and a no-name cola. But there's more going on with Czech beer than just Pilsner Urquell, and not all of it is good. In the 17 years since the Velvet Revolution, the local brewing industry has experienced a major crunch, with many of the major brewers getting gobbled up by international chains. (Pilsner Urquell is now owned by SAB Miller; Prague's Staropramen is held by Belgian conglomerate InBev.) More than 100 small breweries closed down during this time, bringing a terrible homogeneity to the collective Czech tankard: in Prague today, it's difficult to find a bar that doesn't only serve beers from one of the country's three largest breweries. And this is in the country that consumes the most beer per person in the world—160 liters annually, more than Germany, England or Ireland.
There is a bright side. The Czech Republic may not be America's Pacific Northwest, but brewpubs are starting to appear at a righteous pace, and nowhere more so than in the capital. Prague brewpubs offer far more variety than regular hospody, serving the standard pilsnerstyle "light" or "pale" lager, the second-favorite dark lager, and a number of unusual variations, including some fantastic wheat beers. (Before Pilsner Urquell was invented, the Czech lands were once famous for wheat beers. But the pilsner style was so popular that it killed off Czech wheat beers entirely, though they remained in parts of neighboring Germany.) "It's ironic about Czech wheat beers," says Ales Dockal, manager of Prague's Pivovarsky dum brewpub. "Nowadays, our people say, 'Oh, I know this from Bavaria.' But it's actually from here originally."
Leave Your Doilies at Home
It's not just about rediscovering old favorites, of course. Since the fall of communism, Prague has brought in two new kinds of watering holes, which shows just how diverse the city is becoming. The first is the tearoom. Drop all thoughts of little old ladies with extended pinkies and cucumber sandwiches with the crusts cut off—these are Moorish tearooms, dreamy salons like you'd find in a faraway casbah or caravansary, places that treat tea like a religion. Inside are small candle-lit tables, cushions for seating and somber, black-clad attendants who seem more like monks than waiters. And then there are the teas: around 100 loose-leaf selections ranging from first-flush estate Darjeelings to great gyokuros and rare Taiwanese oolongs.
A typical tearoom is Lubos Rychvalsky's Dahab, which also has a Moroccan restaurant, complete with belly dancers. I once asked Rychvalsky about the popularity of tearooms. The answer was simple, though once again tinged with a paradox: after the Velvet Revolution, he said, Czechs finally had the freedom to travel, but not the money. In short, though capitalism brought liberty, it also imposed other restrictions. The tearoom was a way for Czechs to experience the atmosphere of a souk in Marrakech or a Silk Road monastery while sitting in a Gothic building in Old Town. It quickly turned into a cultural phenomenon, with scores of examples appearing around the country, and within a few years, the Czech Republic went from drinking a modest amount of tea to hitting the third-highest level of consumption in Europe.
Nowadays, Prague's tearooms are popular with foreigners as well, and the counters often teem with British, Polish and Russian connoisseurs stocking up on rare Assam or a high-grade lung ching that might be impossible to find back home. What was once a substitute for Czechs to travel abroad now attracts foreigners to Prague.
Cure for the Common Cocktail
The second new destination is far more familiar to Westerners: though beer remains the country's drink of choice, a number of cocktail bars have opened recently, mostly in the labyrinthine streets under the jutting spires of Old Town's Tyn Cathedral.
There's nothing ironic, paradoxical or sardonic about places like Tynska Bar & Books, the lone foreign branch of Manhattan's Bar & Books chain. (Okay, maybe that the walls of bookshelves are just for decoration, and the books themselves are not for sale and might as well be fake.) But the drinks are very real, perfectly made and, despite being served on a scenic lane in the visitor-friendly city center, not just for tourists. "I'm getting a Czech clientele," says Martina Pestova, the bar's owner. "Before, it was mostly expats. Now, 40 percent of my clients are locals."
Apparently, locals know a good thing when they taste it. In my opinion, Bar & Books makes the best Old Fashioned in town, if not the universe, and after three of them I somehow start to think I'm in a sleek lounge somewhere back in the States.
But step outside of Bar & Books and you quickly return to what Bertolt Brecht referred to as "the ancient city," a place where the stories take up so much real estate you can hardly walk down the sidewalk without bumping into another one. The street, Tynska, is the same lane 8-year-old Franz Kafka walked down every day to the boys' school around the corner. Tyn Cathedral, which looms above, is the final resting place of the astronomer and alchemist Tycho Brahe, who, yes, wore a false nose. Nearby is the Old Town Hall where one of Prague's celebrated defenestrations took place (there have been at least three others).
It remains a strange city, one that often hides its best features right out in the open. Directly across from Bar & Books is one of my favorite coffeehouses, Tynska Literarni Kavarna, or "Tynska Literary Café." No matter how many times I've been there, I always have trouble finding my way back—the door looks like a gate to a private garage—and every day, dozens of tourists must walk past without even realizing it's there.
Inside, Tynska's dark rooms are filled with smoke and quiet conversations; in the back is a hidden courtyard. While literally meaning "café," a typical Czech kavarna is also partly a bar, and Tynska is no different. Most of the people here are drinking alcoholic beverages, not coffee, and several of them have stopped by for a panak (or "little man," meaning a shot) of the beloved Czech cure-all, Becherovka.
Made with mineral water from the Bohemian spa town of Karlovy Vary, or Carlsbad, Becherovka is a peppery liqueur with a secret recipe of more than 30 herbs, including, so the rumor goes, stinging nettles. It doesn't sting so much as stimulate, and it's sugary and slick in the mouth, warming the belly with an intense glow. It's most commonly served straight or with tonic and a twist, a spicy and bittersweet cocktail known as the Beton, which also means "concrete" in Czech. But I know there must be other ways to drink Becherovka, so I call Munson to ask for a recommendation.
Naturally, "Beton" is the first word out his mouth. But aren't there other recipes? "Sure, there are tons of other cocktails made with Becherovka," Munson says. "But why don't you have an absinthe cocktail instead?"
Apparently, the Green Fairy was also known as a fantastic mixer in its day: Henri de Toulouse-Lautrec cut absinthe with cognac and called it a tremblement de terre, or "earthquake," and a similar mix is the basis for the Sazerac, one of the first cocktails ever made.
But at Tynska they don't have Toulouse- Lautrec absinthe, and I don't think Jáma has the Sazerac's required Peychaud bitters. So I settle for an icy shot of Becherovka, straight, and feel the cool warmth as it slides down my throat. In Prague, it's often the case that you can't get there from here: there's just too much bureaucracy, paradox or irony. But the simple truth is that in Prague, here is sometimes exactly where you want to be.
Story by Evan Rail