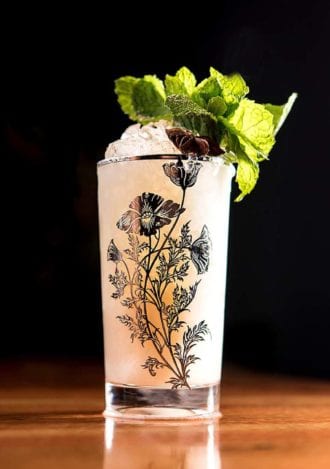 Lately, bartender Camille Cavan is making use of pantry staples to mix up her The Power of One tropical cocktail, which combines aged rum with the luscious texture of coconut milk, earthy spice of ginger, and pop of fresh lime.
2 oz. aged rum (Cavan uses Appleton Estate Reserve)
1 oz. coconut milk
1 oz. fresh lime juice
1 oz. rich simple syrup*
Shaved fresh ginger, approximately 1 tsp.
Tools: shaker, strainer
Glass: Collins or highball
Garnish: mint bouquet, one whole star anise, freshly grated nutmeg, ground cinnamon
Add all of the ingredients to a shaker. Add ice, shake, then strain into an ice-filled glass. If you have access to crushed ice, add crushed ice over the top of the cocktail and garnish.
*Cavan says, to make the rich simple syrup more "tiki," add clove, allspice, or a cinnamon stick (she recommends all three) before heating the ingredients. She adds, this simple syrup can easily be made in the microwave: To do so, add 2 parts sugar to 1 part water, add spices, then heat for two minutes. Remove from the microwave and stir until clear. Set aside (or put in the fridge) until cool, then remove spices.
Camille Cavan, Quaintrelle, Portland, Oregon
---
Did you enjoy this recipe? Sign up for our newsletter and get weekly recipes and articles in your inbox.