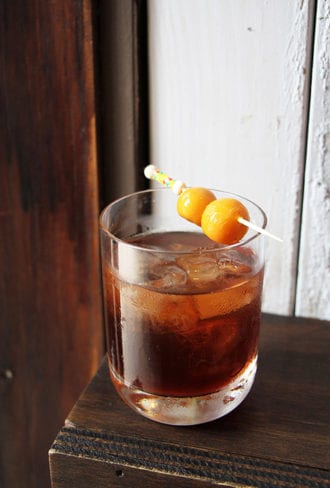 Former Pastry War general manager Kehlen Selph found her muse for this recipe via a drink called the Cucaracha Rum, a blackstrap-heavy cocktail from a 1920s bar in Mexico City called La Cucaracha Cocktail Club. "There was no mezcal on the menu, but this was a classic cocktail from Mexico City in the 1920s, so I wanted to use it as inspiration and see what it would taste like with mezcal," Selph says. Heaps of dark, molasses-like sugars and notes of overripe pear counterbalance subtle hints of orange blossom, with mezcal acting as a vigorous undercurrent of smoke.
¾ oz. blackstrap rum
¾ oz. mezcal espadín
½ oz. maraschino liqueur
¼ oz. turbinado syrup (1:1)
1 dash Angostura bitters
Tools: mixing glass, barspoon
Glass: rocks
Garnish: nanche berries (or substitute maraschino cherry)
Stir all of the ingredients together with ice in a rocks glass. Garnish.
Adapted with permission from Mezcal: The History, Craft & Cocktails of the World's Ultimate Artisanal Spirit. Photo and text copyright Emma Janzen. Published by Voyageur Press, an imprint of The Quarto Group. 
---
Did you enjoy this recipe? Sign up for our newsletter and get weekly recipes and articles in your inbox.