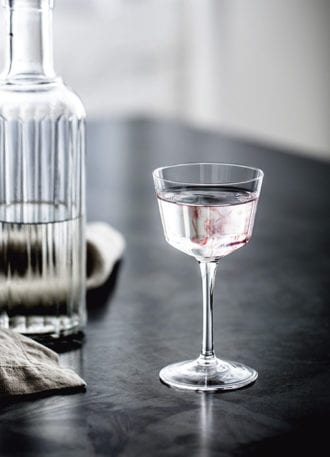 "There are few things as luxurious as having a bottle of martinis in your freezer, ready to pour at the end of a long day," writes author Maggie Hoffman in her new book Batch Cocktails. The recipe for the Invitation, created by Collin Nicholas of Portland's Ava Gene's and Tusk, is one of Hoffman's favorites, prized for the way the split base of two vermouths plus gin and vodka create a drink that's "silky and seamless." This recipe makes enough for 8 servings.
1½ cups gin
½ cup vodka
½ cup Dolin blanc vermouth
½ cup Dolin dry vermouth
2 teaspoons absinthe
⅔ cup water
Tools: bottle, funnel
Glass: Nick and Nora
Garnish: Peychaud's bitters
At least 2 and up to 4 hours before serving, make the batch. Use a small funnel to pour gin, vodka, blanc vermouth, dry vermouth, absinthe, and water into a 1-liter swing-top bottle. Seal, turn gently end over end to mix, and chill in freezer. (If you'd prefer to batch further in advance, refrigerate filled bottle, then place in freezer an hour or two before serving.)
To serve, turn bottle gently to mix, then pour cocktail into chilled Nick and Nora glasses. Add 3 dashes bitters to each drink and serve immediately. Return bottle to freezer if not serving all of the cocktails right away.
Reprinted with permission from Batch Cocktails: Make-Ahead Pitcher Drinks for Every Occasion by Maggie Hoffman, copyright © 2019. Published by Ten Speed Press, an imprint of Penguin Random House.
---
Did you enjoy this recipe? Sign up for our newsletter and get our favorite drink recipes of the moment in your inbox every month.