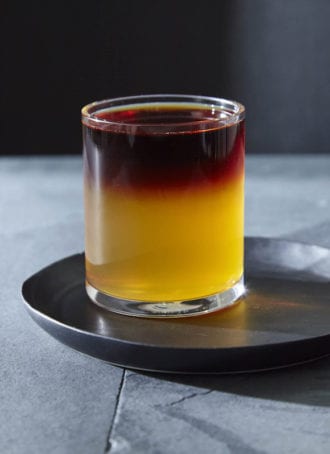 Referencing the light and dark sides of the force, this cider cocktail from Star Wars fanatic Jesse Card finds perfect balance through a combination of molasses-rich blackstrap rum and a snappy, semi-dry cider.
1 oz. blackstrap rum
¼ oz. falernum
¼ oz. fresh lime juice
6 oz. semi-dry cider, well-chilled (Card uses Carlton Cyderworks Citizen cider)
Wide strip of orange peel
Tools: barspoon, mixing glass
Glass: rocks
Garnish: grated nutmeg
Combine the rum, falernum and lime juice in a mixing glass with ice and stir to chill. Pour the chilled cider into a rocks glass, then with the back of a barspoon, slowly float the rum mixture onto the top of the cider. Squeeze the orange peel over the drink to express the oils, then discard. Garnish.
Jesse Card, Bit House Saloon, Portland, Oregon
From Tasting Cider by Erin James. Copyright 2017, Sip Publishing. Reprinted with permission from Storey Publishing. 
---
Did you enjoy this recipe? Sign up for our newsletter and get our favorite drink recipes of the moment in your inbox every month.