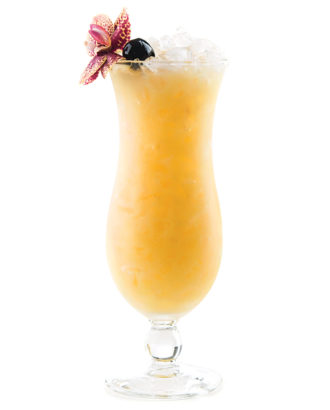 Pistachio orgeat lends a rich, nutty flavor to this riff on the Saturn cocktail. Make the ingredient yourself at home with this inspired recipe from Merchant in Madison.
1 oz. navy-strength gin
¾ oz. rhum agricole blanc
½ oz. Velvet Falernum
¼ oz. dark Jamaican rum
½ oz. pistachio orgeat
½ oz. fresh lime juice
¼ oz. fresh lemon juice
½ oz. honey–passion fruit syrup purée mix (2:1)
2 dashes of Bittercube Jamaica #1 Bitters (or substitute Angostura)
1 dash of Angostura bitters
Tools: shaker, strainer
Glass: hurricane
Garnish: cherry and orchid (optional)
Combine all the ingredients and shake with crushed ice. Strain into glass, top with more crushed ice and garnish.
Honey-passion fruit syrup: Combine 2 parts honey with 1 part passion fruit juice or purée (we used Perfect Purée) and stir to fully incorporate.
Gregg Jackson and Thor Messer, Merchant, Madison, Wisconsin