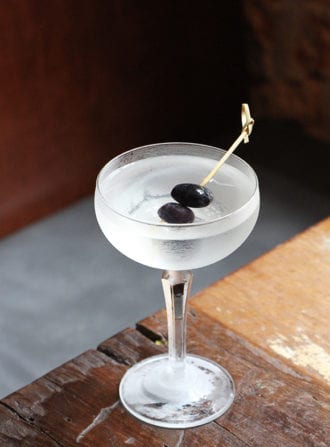 Inspired by the Capitan, a pisco-based cocktail likely invented in the early 1900s, Catahoula bar manager Nathan Dalton swaps sweet vermouth for French vermouth in this modern version. "The drink is a favorite at the Catahoula because it's the perfect introduction to pisco," Dalton says. "It feels like you're drinking straight pisco, much like drinking gin in a dry martini, but the amount of vermouth and the dilution makes it go down like water," he says.
2 oz. quebranta pisco (Catahoula uses Barsol)
1 oz. blanc vermouth (Catahoula uses Dolin Blanc)
Glass: coupe
Tools: mixing glass, barspoon
Garnish: black grapes
Combine the ingredients in a mixing glass with ice and stir until chilled. Strain into a chilled coupe and garnish.
Nathan Dalton, Catahoula, New Orleans