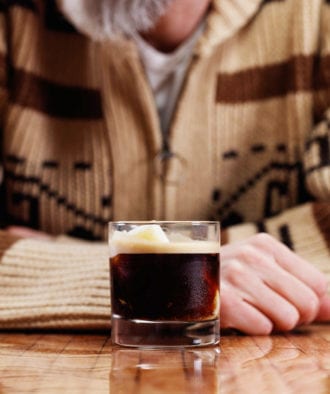 Named for the way The Dude orders his White Russian in The Big Lebowski, this riff from The Aviary Cocktail Book has a dark, earthy, and extra creamy complexity thanks to rum, chicory syrup and a slowly melting milk ice cube. Like most of the recipes in the new book, a little more elbow grease is required to make this at home, but if any cocktail is worth it, this one is.
1½ oz. double-brewed coffee
1 oz. Jamaican rum (Aviary uses Appleton Estate Signature Blend)
¼ oz. Galliano L'Autentico
¼ oz. chicory syrup
Tools: shaker, strainer, double strainer
Glass: rocks
Place 2 milk ice cubes in tall glass. Combine all the ingredients with ice in shaker. Shake vigorously until chilled and diluted, then double-strain into glass over milk ice.
Double-brewed Coffee
200 grams water
9 grams ground coffee (in 2 batches of 4.5 g)
Prepare an ice bath. In medium saucepan, bring water to a boil. Remove from heat, add 4½ grams of coffee, cover, and let steep for 4 minutes. Strain through a coffee filter. Immediately add the remaining 4½ grams of coffee and allow to steep 4 minutes. Strain through a clean coffee filter. Transfer to a glass bottle, and place in an ice bath to chill thoroughly. Store in the refrigerator.
Chicory Syrup
10 grams chicory
50 grams sugar
50 grams water
Heat the oven to 350°F (175°C). Spread the chicory on a sheet tray and toast in the oven for about 10 minutes, or until fragrant. Combine the toasted chicory, sugar and water in a vacuum bag and seal on the highest setting. Cook en sous vide at 90°C (195°F) for 1 hour. Meanwhile, prepare an ice bath. Chill the bag in ice bath until completely cooled. Strain through chinois. Transfer to a glass bottle and store in the refrigerator.
Milk Ice
420 grams whole milk
Fill a 1¼-inch square ice mold with milk. Freeze until completely solid. Reserve in the freezer.
The Aviary, Chicago
---
Did you enjoy this recipe? Sign up for our newsletter and get our favorite drink recipes of the moment in your inbox every month.