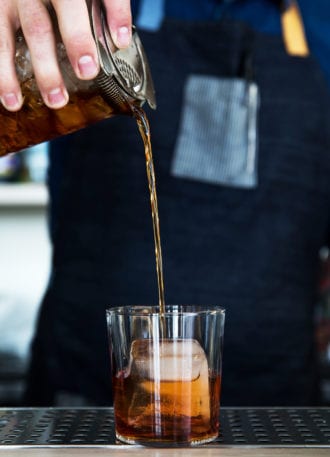 "This cocktail was inspired by the luscious and balanced profile of the Boulevardier cocktail," says bartender Collin Nicholas at G-Love in Portland, Oregon. With dry, spice-driven Cynar bringing a dark depth to contrast bright, bittersweet Aperol, the drink finds perfect balance in the classic 1:1:1 ratio. The final touch, a spritz of Becherovka, "is the perfect accompaniment to this recipe as it softens the nose with warm baking spice qualities and rounds out the palate of this bitter, spirit-driven recipe through its bold, expressive aroma," Nicholas adds.
1 oz. Aperol
1 oz. Cynar
1 oz. rye whiskey
Tools: mixing glass, barspoon
Glass: rocks
Garnish: spritz of Becherovka, orange peel
Combine the ingredients in a mixing glass with ice and stir to chill. Strain into a rocks glass over a single large ice cube and garnish.
Collin Nicholas, G-Love, Portland, Oregon
---
Did you enjoy this recipe? Sign up for our newsletter and get weekly recipes and articles in your inbox.