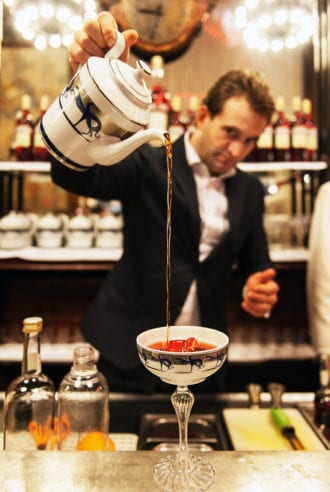 This Negroni riff stays true to the core ingredients and ratios of the classic recipe but introduces a spiced tea infusion to the mix.
1¼ oz. Campari
1¼ oz. Cinzano 1757 Vermouth di Torino Rosso
1¼ oz. Bulldog gin
Infusion of black tea and spices
Orange Zest
Tools: teapot
Glass: coupe
Garnish: orange zest
Steep the tea infusion. After 1 minute, filter and place the leaves at the bottom of the teapot. Add the Campari, gin and vermouth, allowing to infuse for 1 minute. Add plenty of ice to the teapot and close. Mix by moving the teapot with a circular motion for 10 seconds. Garnish and serve.
For the tea infusion,  combine 1 tsp. Assam tea, 1 cinnamon stick (broken into pieces) and and a handful of dried rose petals.
Tommaso Cecca, Café Trussardi, Milan, Italy
---
Did you enjoy this recipe? Sign up for our newsletter and get our favorite drink recipes of the moment in your inbox every month.