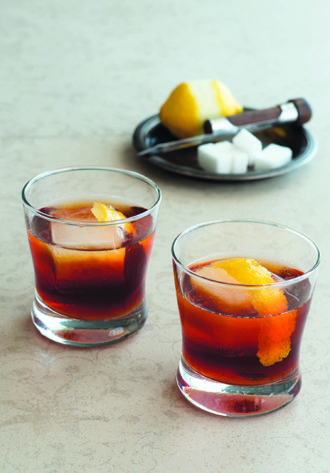 At Rome's Caffè Propaganda, barman Patrick Pistolesi combines his affinity for classic Italian and American cocktails in his bittersweet house drink, the Cosa Nostra, which is featured in Katie Parla and Kristina Gill's beautiful and insightful book, Tasting Rome.
1½ oz. bourbon
1 barspoon Campari
1 barspoon Rabarbaro Zucca
¼ oz. simple syrup (1:1)
2 dashes Fernet-Branca
Tools: mixing glass, bar spoon, strainer
Glass: Old Fashioned
Garnish: lemon twist
In a mixing glass filled with ice, combine all ingredients and stir until chilled. Strain into an Old-Fashioned glass filled with one large ice cube. Twist a strip of lemon peel over the glass and drop it in to garnish.
Reprinted from Tasting Rome: Fresh Flavors & Forgotten Recipes from an Ancient City. Copyright © 2016 by Katie Parla and Kristina Gill. Published by Clarkson Potter, an imprint of Penguin Random House, LLC.