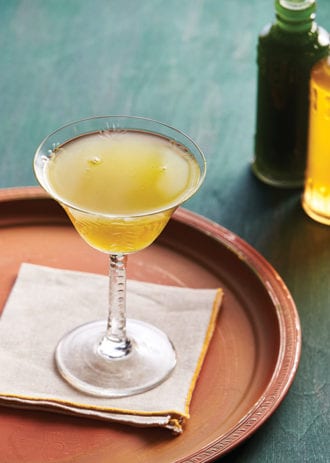 A bittersweet tarragon syrup marries perfectly with earthy tequila in this cocktail from ABV in San Francisco.
2 oz. blanco tequila
1 oz. fresh lime juice
½ oz. pineapple syrup (such as Small Hand Foods or homemade)
½ oz. tarragon syrup
1 dash absinthe
Tools: shaker, strainer
Glass: coupe
Shake all of the ingredients with ice, then strain into a chilled glass.
Tarragon Syrup: Blanch 1½ oz. of tarragon leaves (no stems) for 15 seconds in boiling water, then transfer the leaves to an ice bath. In a blender, combine the leaves with 2 cups of simple syrup (1:1) and blend until smooth. Store in the refrigerator for up to 1 month.
Cecily Kllanxhja for ABV, San Francisco
---
Did you enjoy this recipe? Sign up for our newsletter and get weekly recipes and articles in your inbox.