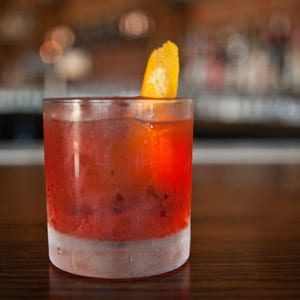 Smoky mezcal is paired with a toasted cinnamon and fresh pineapple–infused Campari in this Negroni riff by The Corner Door's Beau du Bois.
2 oz. mezcal
1 oz. pineapple and cinnamon–infused Campari
1 oz. sweet vermouth
Tools: mixing glass, strainer
Glass: double Old Fashioned
Garnish: orange peel
Put the ingredients in a mixing glass full of ice and stir to chill. Strain into a glass over a single large ice cube. Twist an orange peel over the surface of the drink and garnish with the peel.
Pineapple & Cinnamon­­–Infused Campari: Peel, core and chop a whole pineapple into 1-2″ pieces and place them in a 1-gallon glass container with a tight lid. Gently toast 3 cinnamon sticks in a pan over low heat until warmed and slightly smoky. Add them to the jar along with 1 750-ml. bottle Campari. Let the mixture infuse for 12 hours, then use tongs to remove the cinnamon sticks. Let the mixture infuse another 2 days then strain into a clean glass container.
Beau du Bois, The Corner Door, Culver City, California