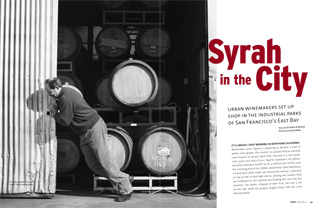 It's a bright, crisp morning in Northern California. Winemaker Loren Tayerle is preparing to destem a load of petite sirah grapes, the clusters so packed they've become solid masses of almost black fruit. Dressed in a red sweatshirt, jeans and black Crocs, Tayerle maneuvers his yellow-and-black Komatsu forklift to tilt a half-ton bin of fruit over the receiving end of his CMMC destemmer. Dino Blackburn, a friend who often helps out around the winery, is perched on top of the 10-foot-high device, picking out clusters that are mildewed or not ripened and feeding the rest into the machine. The stems, stripped of their fruit, fall into a bin on the side, while the grapes, largely intact, fall into a bin directly below.
This is a common scene at any winery, but the backdrop sets Tayerle Wines apart. Semi trucks roar back and forth on the side street beside the small West Oakland industrial park where the winery is tucked into a rented 800-square-foot, corrugated metal shed. A red sign posted on the barbed-wire-topped chain-link fence surrounding the property reads "NO SMOKING While Working Racks," a holdover from the site's former life as an oxygen-generating plant.
Welcome to winemaking, West Oakland style. Tayerle is one of 16 members of the East Bay Vintners Alliance, a growing organization of urban winemakers founded last year. Despite their funky digs and unlikely locations, these pioneers are producing prize-winning wines in an area where cooling breezes from San Francisco Bay provide an excellent climate for winemaking.
Unique as inner-city winemaking might seem, urban wineries are not a new idea. "If you go back a hundred years, all the wineries were in San Francisco," says Brendan Eliason, who owns Periscope Cellars in Emeryville, a small municipality tucked between Oakland and Berkeley. "Then, after the quake [of 1906], the wineries moved out to where the vineyards were and stayed there."
The wineries in the group are mostly small; only four of them have tasting rooms. But Rosenblum Cellars makes a whopping 52 wines and produces more than 200,000 cases a year—significantly more than all the other EBVA members combined. Kent Rosenblum and his wife, Kathy, started making wine in Oakland's long defunct Dead End Bar, where they rented space in 1978. Now they have 80,000 square feet in a former railroad-repair facility on Alameda Island in San Francisco Bay, just west of Oakland. Rosenblum, 62, who looks the part of an urban cowboy, boots and all, touts the advantages of "operating in the center of a huge wine-drinking public." He has built up a loyal customer base at his tasting room, which is a lot more convenient to Bay Area wine lovers than Napa or Sonoma. About 20 percent of his sales are direct to consumers. He sells the rest to stores and restaurants around the country, and his wines are popular in Bay Area establishments.
While Tayerle's operation is on a somewhat smaller scale, he, Rosenblum and the rest of the EBVA makers operate on the same philosophy: Leave the growing to carefully selected vineyard owners who tend their vines every day and concentrate on making the best wine they can make with their fruit. For Tayerle, a professional French horn player—as for other EBVA members—setting up shop in an urban setting is a win-win situation. He's close to Berkeley, where he plays with the Berkeley Symphony, but he doesn't have to trek far to visit the rural vineyards he works with. He describes a day in the fall of 2003 when he drove north to Carneros on a sunny morning, tasted his pinot noir grapes and decided that was the day to pick. He hauled them back to Oakland that very morning, destemmed them that afternoon, then proceeded to a Berkeley Symphony rehearsal with conductor Kent Nagano and mezzo-soprano Frederica von Stade. As they began rehearsing Ravel's Shéhérazade, Tayerle recalls, tears came to his eyes. "It was just an incredible day," he remembers. "I still always think back on this and how lucky I am."
Tayerle's winery is divided into a small workroom and a second room with a sign above the door that reads "Cave." The cave is packed with barrels, but he glides among them with practiced ease. He tacked blue plastic tarps to the walls for insulation and set up a makeshift misting system for the Bay Area's rare hot spells. Pinots are his passion, but he also makes a lush super-Tuscan called Il Trovatore, a blend of sangiovese, cabernet and petite sirah. His 2006 wines—which will spend a year or two in the barrel before he bottles them—will amount to about 2,000 cases.
The setting is humble, but the wines are sold in fine restaurants and wine stores around the Bay Area. Laurent Michit, sommelier at Shanghai 1930, a San Francisco restaurant noted for its wine list, took Tayerle's pinot to his native France and served it blind to winemakers there. "That's Burgundy," they said. "No," responded Michit, "Oakland." He describes Tayerle's wines as "old-style, very elegant—well-balanced, round, smooth, with nice structure and complexity. Not too tannic, not too fruit-forward, not too acidic." Not bad for a wine made in a West Oakland shed.
Tayerle has divided his time between music and winemaking for the past 14 years. "[In music], at a very basic level, you're always dealing with details: precise rhythm, intonation—you can't really get away without that stuff," says the tall, unruly-haired 48-year-old. "It's the same with wine—it's the simple details. If you don't take care of business, it really shows in the wines."
He got his start in winemaking at David Bruce Winery in the Santa Cruz Mountains south of the Bay Area, then worked for Rosenblum Cellars—as did several EBVA members—before branching off on his own. The Oakland space made it possible for him to go into business because the rent was affordable and the area already zoned for the production of alcoholic beverages. And, of course, if he lived in Napa or Sonoma, he would be driving his 1988 Ford F-250 truck an hour and a half each way to the Bay Area venues where he rehearses and performs. The truck "drives like a Cadillac with a ton of grapes in the back," he notes, "but otherwise it's murder on city streets."
On the asphalt outside Berkeley's A Donkey and Goat winery, 35-year-old owner Jared Brandt is scooping grapes out of a 500-liter wooden barrel. His wife, Tracey, is moving more barrels around with a forklift, and several friends are helping out. Today they're pressing their 2006 syrah, an elegant, medium-bodied wine made with grapes trucked in from Broken Leg Vineyard, a remote plot located in Anderson Valley, 100 miles northwest of San Francisco.
When the dot-com bubble burst in 2001, the Brandts—who had both been working tech jobs—decided to try winemaking. They could have enrolled in U.C. Davis' viniculture program; instead, they spent nine months in France, learning the business from the ground up. When they came back to the Bay Area, they rented space in a former foundry in West Berkeley's light industrial zone and got to work making the lower-alcohol, higher-acid Rhone-style reds they had come to love in France, along with a bright, acidic chardonnay.
The young couple does everything in as natural a manner as possible. They ferment their wines in wooden barrels rather than plastic bins—partly because wood breathes and also because Tracey, 36, is generally weary of plastic (the couple's 2-year-old daughter drinks only from glass bottles and eats off porcelain plates)—and when it comes to crushing, they prefer the ancient method of pigeage à pied. "We haven't found a machine that can duplicate the gentle crushing you get with good old-fashioned foot-stomping," Tracey says.
Tracey is as much, if not more, involved in the wine business as Jared, who continues to work a day job with Kodak, wh
ere he manages digital consumer products. They buy from growers all over Northern California and visit each vineyard once a week from early August until harvest in November. Jared's commute to Kodak is a short one, but they put about 10,000 miles on their Toyota Prius visiting far-flung vineyards last year. Inside the winery they have jars of soil—often more rock than dirt—from the various vineyards. Jared explains that they look for rocky vineyards where the vines work harder, producing lower yields but intense fruit. A Donkey and Goat's 2005 production amounted to 600 cases; they expect the 2006 vintage to total about 1,100. Their goal is to get up to 2,000 cases a year, which they see as an amount they can handle while maintaining quality control.
"We set out to follow a dream, and we set up shop where we live," Tracey says. "Over the last few years people have figured out that they don't have to buy the palatial estate and plant their own vineyards. Here we have lots of options for culture and educating our daughter."
At Periscope Cellars, midway between Tayerle and A Donkey and Goat, Brendan Eliason is bottling his 2005 wines in a 6,000-square-foot space that once housed a submarine repair facility. (The building was on the bay during World War II, but now it's about a quarter-mile inland, thanks to landfill projects.) A large white truck emblazoned with the URL for ultimamobilebottling.com is backed into the loading dock, and the high-pitched din of bottles bumping against each other is relentless. Wearing a blue St. Francis Vineyards T-shirt, jeans and a five o'clock shadow, Eliason, 31, is overseeing the bottling process in the truck. Workers feed empty bottles into a chute on the left, and the bottles make their way around the inside walls of the truck, where they're labeled, filled with wine pumped from a barrel, corked and capped. As the bottles finish their journey, an Ultima worker drops them into boxes and closes and tapes the cases.
Several friends lend a hand with the hoses and pump, and a couple of dogs romp around the winery. (When there's work to be done, it seems urban winemakers do not lack for friends.) The wine being pumped into bottles looks slightly cloudy and still holds a hint of rawness, but in the next few months, as it rests in the bottle, the rough edges will round out.
Eliason says that he especially likes working with zinfandel and that syrah is a more recent passion. "I buy grapes only from people who planted their own vineyards, live on their own property and do all their farming," he declares with an assurance that belies his age. "I don't buy grapes from anyone who doesn't walk their vineyards every day and know every vine and every row."
So are these urban winemakers—and others operating within the city limits of Seattle, Portland and a handful of other metro areas—dreaming of the day when they can move to Napa Valley, operate their own vineyards and live the bucolic life that most of us associate with winemaking? Not on your life. These entrepreneurs are happy to leave the risks and uncertainties of growing to others and concentrate on making the wines. While it's convenient for winemakers to set up shop in the city where they live and play, Tayerle admits that urban-made wines can lack the sense of place that other wines evoke. When he tells people where his wines are made, they sometimes look perplexed, or even giggle, a reaction he has learned to undercut by quipping that his winery is located in "the romantic wine country of West Oakland."
Story by Richard Reynolds