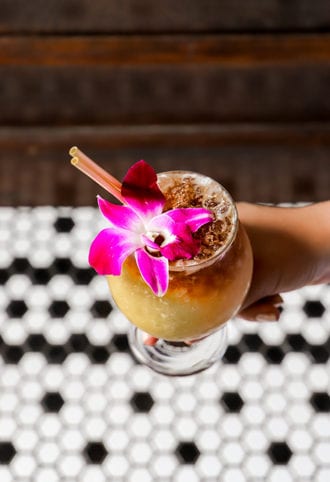 "I always felt the Painkiller recipe was either too sweet or tasted like suntan lotion. I had never tasted a balanced interpretation of that drink, until I tried the one at Porco," says Sugar House owner Dave Kwiatkowski. "The focus of ours is keeping the rum forward, and balancing the coconut in relation to the rest of the ingredients so it's sweet and sour in harmony."
2 oz. añejo rum
¾ oz. fresh pineapple juice
¾ oz. coconut cream
½ oz. fresh orange juice
¼ oz. fresh lime juice
½ oz. blackstrap rum, to float
Tools: shaker, strainer
Glass: Tulip
Garnish: Grated nutmeg and edible orchid
Combine all of the ingredients except the blackstrap rum in a shaker and shake briefly with pebble ice. Strain into a glass over fresh pebble ice. Top with the blackstrap rum float and garnish.
Dave Kwiatkowski, Sugar House, Detroit
---
Did you enjoy this recipe? Sign up for our newsletter and get weekly recipes and articles in your inbox.