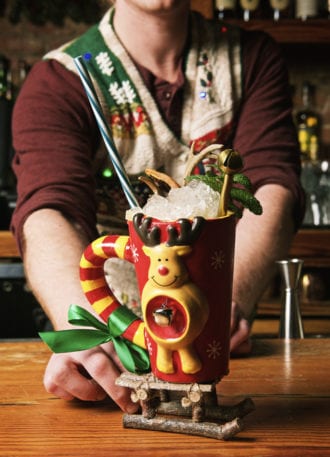 This tropical blend comes from Ryan Welliver, winner of the Charleston Wine + Food Rum, Rum Rudolph competition held in December. Combining two types of rum with citrus and spice, it will be the official cocktail for the 2017 Charleston Wine + Food, but don't miss out on trying to make it at home.
1 oz. Hamilton 86 Demerara Rum
½ oz. Plantation O.F.T.D
½ oz. Velvet Falernum
½ oz. fresh grapefruit juice
½ oz. fresh lime juice
½ oz. cinnamon-cumin syrup
2 drops Bittermens Elamakule Tiki Bitters
Tools: shaker, strainer
Glass: large mug
Garnish: grapefruit slice ( uses a dehydrated grapefruit slice)
Shake all the ingredients with ice. Strain in a glass filled with crushed ice. Garnish.
Cinnamon-Cumin Syrup
1 cup water
2 cups white sugar
2 cinnamon sticks
1 Tbsp. ground cumin seed
Toast the cumin until fragrant. Grind into a course powder. Set aside. Bring the cinnamon and water to a boil in a medium-sized saucepan. Boil for 10 minutes. Turn off the heat. Add the sugar and cumin. Stir until the sugar has dissolved. Allow the syrup to cool to room temperature. Strain through a fine-mesh strainer. Bottle and refrigerate for up to 2 weeks.
Ryan Welliver, The Cocktail Club, Charleston, South Carolina