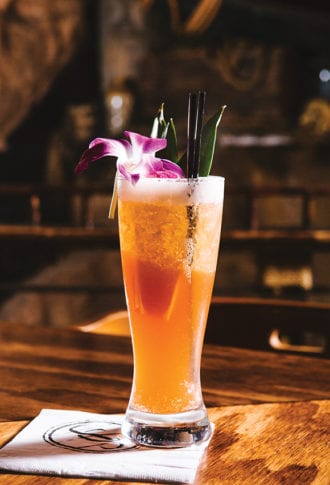 Three types of rum combine in this flavor-packed drink from 2017 Bartender of the Year Steven Liles.
1 oz. aged rum
1 oz. Stiggins' Fancy Pineapple Rum
¾ oz. Plantation O.F.T.D. overproof rum
1 oz. pineapple juice
¾ oz. fresh lime juice
¾ oz. cinnamon syrup
1 dash Angostura bitters
Tools: blender
Glass: footed pilsner glass
Garnish: orchid, mint sprig, swizzle stick and pineapple leaf
Combine all the ingredients in a blender with a scoop (1 cup) of crushed ice, and blend for 5 seconds. Pour into a glass and garnish.
Steven Liles, Smuggler's Cove, San Francisco