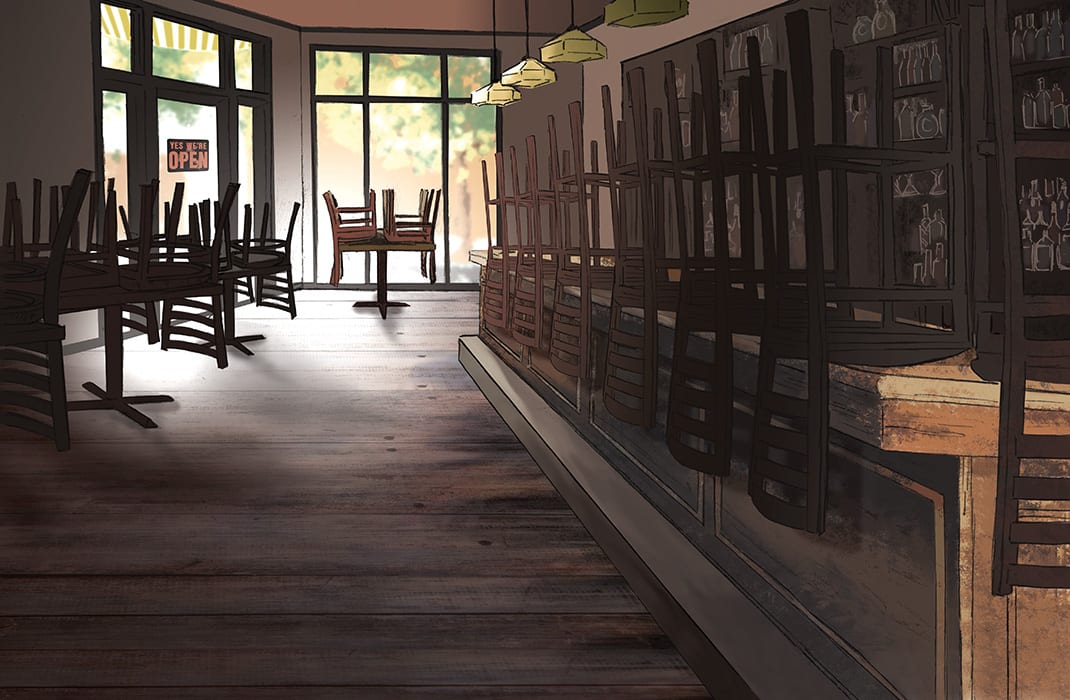 For me, the coronavirus lockdown couldn't have been less perfectly timed. On March 15, the gravity of the crisis in New York City was starting to sink in. That night, I was supposed to reopen Gage & Tollner, Brooklyn's legendary oyster and chop house. Instead, my partners and I laid off the entire staff, turned off the lights, and went home.
This was more than the launch of a new business. At the risk of sounding melodramatic, this opening was supposed to be the culmination of my life's work. For 125 years, Gage & Tollner was the cornerstone of the Brooklyn restaurant world. When it closed in 2004, all that was left was the stunning interior, protected by landmark status. Later, the building housed a TGI Friday's, an Arby's, and a string of downmarket clothing retailers, until it looked like the memory of Gage & Tollner had faded forever. But when my partners, restaurateurs Ben Schneider and Sohui Kim, and I first saw the vacant dining room in 2017, something took hold of me. Everything I love in life—oysters and chops, cocktails, historical research, Victorian design, the restaurant business—seemed to coalesce at this downtown Brooklyn address. Since that moment, and in spite of the best advice of loving friends and family, I pursued this goal with the quixotic zeal of a modern Ahab. Against strong odds, we raised the money and restored the space. Our achievement was the toast of the town. We did it! Almost …
For a few days after, I did little but look out my apartment window. The sky in Red Hook, Brooklyn was gray; everything was gray. I became intimately familiar with the features of my building's courtyard, four stories below me: rusted Weber grills, old ten-speeds, a cracked chiminea held together with baling wire. Beyond that, the bare trees of Coffey Park across the street, and the patchy grass, perpetually wet with spring rain.
It took me back. One night in October 2012, I watched the dark waters of New York Harbor creep up from the nearby shoreline, covering the streets and filling the living rooms of my neighborhood—the night Hurricane Sandy hit the East Coast. From this window, I saw moonlight reflecting in the shivering flood where the grass should have been, and I knew that Fort Defiance, my first restaurant a few blocks away, was underwater.
Now, Fort Defiance was underwater again, but in a different way. Sales started to drop in February, and with the dining room closed, take-out sales were anemic. It was time to shut down the kitchen, maybe for good, and lay off another whole staff. When I did, I replaced our home page with a video of Vera Lynn singing, "We'll Meet Again."
After Sandy, Fort Defiance was saved by a phalanx of volunteers. As soon as the skies cleared, they showed up to muck out the Fort and put it back together. But this time around, the skies would be dark for a much longer time. The volunteers were under orders to stay home, and a silent killer was loose on our streets. That week I dreamt I was on a boat, operating three bars on three different decks, stacked one on top of the next. As more guests got on board, the boat sank, flooding the decks and the bars below. My goal was to make money and stay alive, and it was impossible to do both.
A week or so later, I was alone in the prep kitchen, scavenging food from the walk-in before I shut it off for good. Online grocers were overrun with orders, and there was no way I was stepping foot in the local supermarket. I opened Fort Defiance in 2009 because the neighborhood needed a place to get a good cocktail or a cup of coffee and a bite to eat. Now, I thought, what it needs is a little grocery—and at that moment, some of the sky cleared, just a little. Maybe one that does contactless pickups. And sells vegetables and fresh meat. And fish. And bottled cocktails—why not?
The Fort Defiance General Store was born on March 30. Now, the walk-ins are bursting with fresh asparagus and oranges, the dining room tables are arranged like warehouse shelves, and our bentwood chairs are piled high in a jumble, like the barricade in a Red Hook production of Les Misérables. Our customers—our neighbors—buy groceries on our website and schedule a pickup time; when they arrive, their goods are waiting for them outside. The whole operation runs with one cook in the kitchen and one server out front. Our supply chains are unreliable, but the work gets done, and our community is grateful. Stocking new items—like rhubarb this week—delights them. I feel like the character in a World War II movie who runs the commissary, pacing outside my tent with a clipboard, shouting into an enormous handheld radio. "Yams?! You promised me peaches, Colonel—tinned peaches! My boys are full up to their necks with yams already!"
In the meantime, Gage & Tollner is not dead—not quite, not again. It took years for us to roll back the rock; we're not ready to put that beauty back in the grave. Will we finally open this summer? This fall? At 50 percent capacity? And Fort Defiance—will it continue as a grocery, return as a restaurant, or close altogether? What will this city—or the world—look like in six months? Will bars exist in 2021? It's impossible to know. Never before has the future of our business been so unclear.
Late last night, I was drawn to my window by the smell of wood smoke. Below, in the courtyard, a few people were gathered around that broken chiminea, and a small fire burned in its belly. A thin dog skulked around the edge of the firelight. The people spoke softly to one another, sitting in lawn chairs spaced apart, and drank cans of beer. They laughed. "This is how it will come back," I thought, this thing we bartenders and restaurant people do, the way we bring people together. In small ways. Cautiously at first, softly. At night. I don't know where, don't know when, but the world will need us again someday, I promise.
Editor's note: On June 24, St. John Frizell posted on Fort Defiance's Instagram feed that the establishment will not reopen as a restaurant and bar, but that the Fort Defiance General Store will continue as a permanent arrangement.
---
Did you enjoy this article? Get more of the best of liquid culture when you sign up for a print or digital subscription to Imbibe Magazine. Click here for special savings!