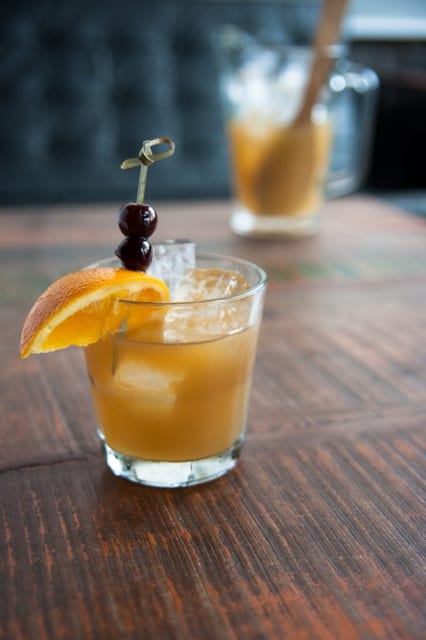 Daydreaming of the crystal-blue Caribbean? Sip on a Spring Street Swizzle instead.
4 oz. black rum
4 oz. silver rum (Warehouse uses Highwire)
5 oz. fresh orange juice
5 oz. pineapple juice
Juice of 1 lime
Juice of 1 lemon
2 oz. vanilla-spice syrup
2 oz. falernum
Tools: over-sized mixing glass or pitcher, swizzle stick, strainer
Glass: punch
Garnish: 6 dashes rhubarb bitters, orange wedges and kirsch cherries
Combine all ingredients in an oversized mixing glass or pitcher and swizzle with crushed ice. Garnish and pour into crushed ice-filled glasses.
Vanilla-Spice Syrup
16 oz. water
4 oz. demerara sugar
4 oz. granulated sugar
4 vanilla beans, split lengthwise
¼ cup whole cloves
4 whole cinnamon sticks
Combine all ingredients in a large saucepan over medium-high heat. Stir until the sugars dissolve, then remove from heat and let cool to room temperature. Strain into a clean glass jar and keep refrigerated for up to 2 weeks.
Warehouse, Charleston