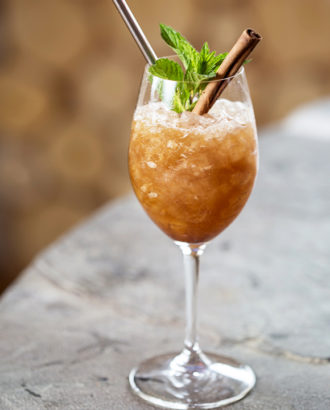 This lush sherry cobbler recipe has an underlying spice flavor thanks to the addition of cinnamon and pecan liqueur.
1½ oz. PX Sherry
½ oz. pecan liqueur
1 dash fresh ground cinnamon
1 grapefruit slice
Tools: muddler, shaker
Glass: wine glass
Garnish: mint sprig, grated cinnamon and cinnamon stick
Lightly muddle the grapefruit slice in a shaker. Add all other ingredients and a handful of crushed ice. Shake and pour into a white wine glass. Top with crushed ice. Garnish.
Gary Hayward, Embers Ski Lodge, Nashville