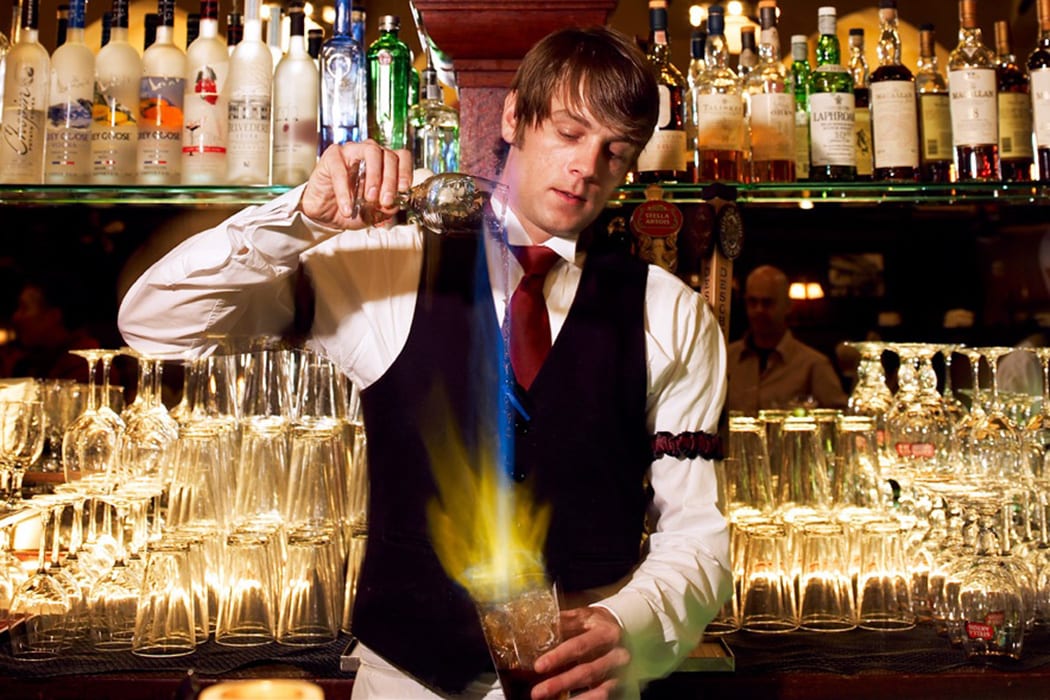 Fortifying a cup of coffee with a splash of booze isn't exactly revolutionary; many countries have their own versions, from Italy's Caffè Corretto to Ireland's iconic mix of Irish whiskey, coffee, sugar and cream. Order a Spanish Coffee in Spain, and you're more likely to be served a simple pour of coffee with brandy or rum, also called a Carajillo and dating back more than a century. The flaming spectacle of Spanish Coffee as we know it is actually an American adaptation.
Long setting the theatrical standard for Spanish Coffee has been Huber's in Portland, Oregon, where the drink is prepared tableside and could easily be accompanied by a soundtrack of Europe's The Final Countdown. Co-owner James Louie created what has become the establishment's signature drink in the 1970s based on a version that was made at the now-closed Fernwood Inn in Milwaukie, Oregon (whose own version was inspired by a Mexican riff on the cocktail). "He just embellished it and made it a little bit safer," says John Pierce, who's been behind the bar at Huber's for 38 years.
The dramatic fire play involves adding overproof rum and triple sec to a sugar-rimmed glass and setting it aflame. After the swirling blue flames have warmed the glass and caramelized the sugar, the fire is extinguished with a pour of coffee liqueur (in this case Kahlúa, of which Huber's uses more than any bar in the country). The boozy blend is topped with hot coffee, a float of freshly whipped cream and a dash of nutmeg. It's a heady mixture to be sure, eschewing subtlety in favor of the flair and nostalgia of a supper club classic—sweet, boozy and warming to the core. "The way we make them, you're not going to find anywhere else," says Pierce. "It's a big show—people want to see the show."
¾ oz. 151-proof rum
¼ oz. triple sec
1½ oz. coffee liqueur (Huber's uses Kahlúa)
3 oz. fresh-brewed coffee
1 lemon wedge
Super-fine sugar
Tools: lighter or matches
Glass: red wine or Irish coffee (make sure it's tempered)
Garnish: lightly whipped cream and grated nutmeg
Run the cut edge of the lemon wedge around the rim of the glass and press the rim into superfine sugar, shaking off the excess. Add the rum and triple sec to the sugar-rimmed glass and carefully ignite, slowly turning until the glass has warmed and the sugar has begun to caramelize. Add the coffee liqueur (the flame should go out at this point) and top with hot coffee. Garnish by gently floating the whipped cream on top using the back of a spoon, then adding grated nutmeg.
---
Did you enjoy this recipe? Sign up for our newsletter and get our favorite drink recipes of the moment in your inbox every month.