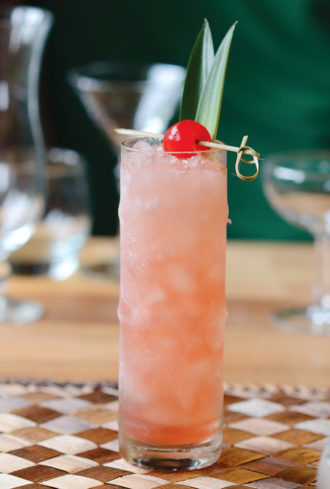 This tiki-inspired sling recipe combines two types of brandy with a spiced syrup.
1½ oz. gin
1 oz. Cherry Heering
1 oz. fresh lime juice
½ oz. brandy
½ oz. apricot brandy
½ oz. spiced simple syrup
Tools: shaker, strainer
Glass: highball
Garnish: brandied cherry
Combine all the ingredients and shake with ice. Strain into a crushed ice-filled glass and garnish.
Spiced Syrup
1½ cups water
1½ cups granulated sugar
2 three-inch cinnamon sticks
1½ tsp. whole cloves
½ vanilla bean
In a small saucepan, combine the water and sugar and bring to a boil. Stir until the sugar dissolves. Add the cinnamon sticks, whole cloves and vanilla bean, split lengthwise and remove from heat. Let steep for at least 30 minutes, then strain into a clean jar. Keep refrigerated for up to 2 weeks.
Reprinted with permission from Tiki Drinks: Tropical Cocktails for the Modern Bar by Nicole Weston and Robert Sharp. Published by The Countryman Press.