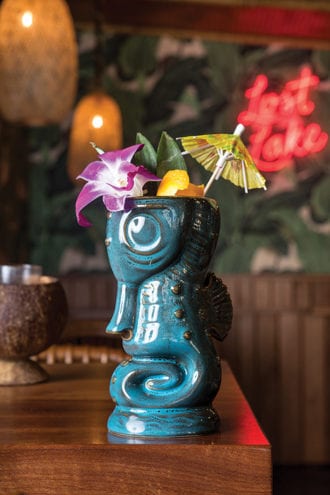 Three different rums mix with lemon, pineapple, passion fruit, port and bitters in this adaptation of Trader Vic's South Sea Dipper recipe.
1 oz. white rum
½ oz. aged rum
½ oz. unaged rhum agricole
¾ oz. fresh lemon juice
¾ oz. pineapple juice
¾ oz. passion fruit syrup
¼ oz. simple syrup (1:1)
1 tsp. ruby port
1 dash Angostura bitters
Tools: blender
Glass: tiki mug
Garnish: orange peel, pineapple leaves, edible orchid
Combine all of the ingredients in blender and add 1 cup of crushed ice. Blend for 3 seconds. Pour the contents into a mug, top with more crushed ice to fill, then garnish.
Adapted by Paul McGee, Lost Lake, Chicago 
---
Did you enjoy this recipe? Sign up for our newsletter and get weekly recipes and articles in your inbox.