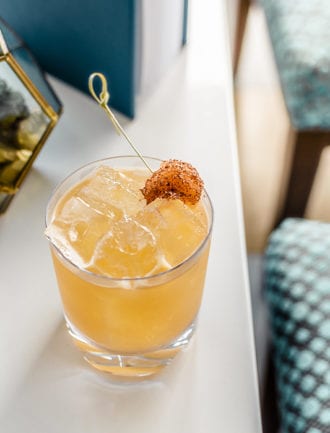 Two types of sotol—aged and unaged—create a complex base in this recipe from Rules & Regs in Austin. "Cantaloupe juice lengthens the cocktail and plays into the tropical notes of the sotol, while the lime and agave nectar balance it out with acidity and sweetness," says bartender Chloe Fisher.
¾ oz. unaged sotol
¾ oz. añejo sotol
½ oz. yellow Chartreuse
1 oz. cantaloupe juice
½ oz. fresh lime juice
¼ oz. agave nectar
Tools: shaker, strainer
Glass: rocks
Garnish: cantaloupe on a pick dusted with Tajin
Add all the ingredients to a shaker, fill with ice and shake vigorously. Strain into a rocks glass, fill with crushed ice and garnish.
Chloe Fisher, Rules & Regs, Austin 
---
Did you enjoy this recipe? Sign up for our newsletter and get weekly recipes and articles in your inbox.