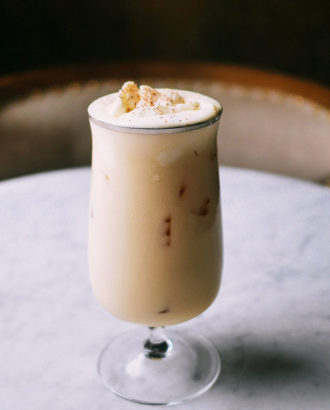 A double dose of Cognac and dark rum form the base of this creamy holiday drink recipe from Chicago. Add a side of Fernet Branca Cookies for extra indulgence.
1 oz. Cognac
1 oz. dark rum
1 whole egg (pasteurized if you like)
½ oz. whipping cream
2 oz. milk
Tools: shaker, strainer
Glass: Collins or hurricane
Garnish: whipped cream
Shake the Cognac, rum, egg, whipping cream and milk together without ice. Add ice and shake to chill. Strain into a glass with fresh ice and garnish with additional whipped cream.
Celeste, Chicago