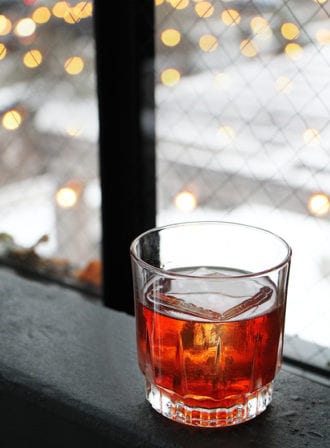 To combat the frigid Chicago winters, The Dawson's bar manager Aaron Pollack crossed two boozy classics–a Rob Roy and a Vieux Carre–to create this delicious winter warmer.
¾ oz. Scotch
¾ oz. Carpano Antica sweet vermouth
½ oz. rye whiskey
¼ oz. armagnac
1 barspoon Bénédictine
2 dashes Peychaud's bitters
1 dash Angostura bitters
Lemon peel
Tools: mixing glass, barspoon
Glass: rocks
Combine all the ingredients in a mixing glass with ice. Stir until chilled. Twist a lemon peel over the top of the drink and discard.
Aaron Pollack, The Dawson, Chicago