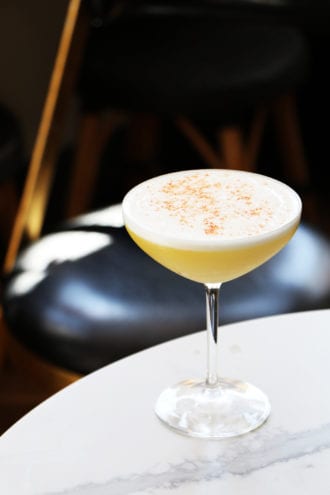 The heat of jalapeño makes the pineapple and ginger flavors pop in this mezcal cocktail.
1½ oz. mezcal
½ oz. orange liqueur
1 oz. fresh lime juice
½ oz. ginger syrup
½ oz. pineapple jalapeño syrup
1 fresh egg white (pasteurized, if you like)
Tools: shaker, strainer
Glass: cocktail
Garnish: cayenne mix (1:1:1 sugar to salt to cayenne)  
Dry shake all the ingredients together without ice to combine. Add ice, shake again to chill, then strain into a chilled glass. Garnish.
Ginger Syrup: Combine 1 cup of ginger juice with 1½ cups of simple syrup (1:1). Shake to combine.
Pineapple Jalapeño Syrup: Combine 1 cup of pineapple juice with 1 cup of superfine sugar and stir to dissolve. Chop up one medium-sized jalapeño and add to syrup, checking regularly until the desired amount of spice comes through (Yard usually lets it go for 24-48 hours).
Melissa Yard, Joséphine Wine Bar, Charleston
---
Did you enjoy this recipe? Sign up for our newsletter and get our favorite drink recipes of the moment in your inbox every month.