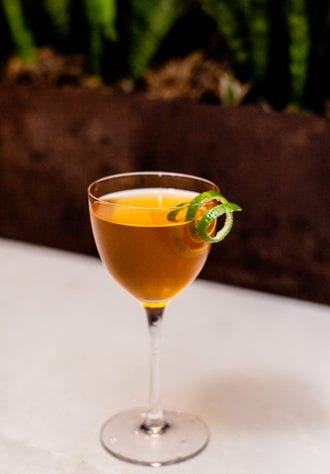 To create a cocktail that would be named the official welcome drink of Charleston Wine + Food's 2020 festival, bartender Nikki Fairman of FIG mixed gin with bittersweet Cappelletti and turmeric syrup. She used acid phosphate to lend a pop of citrus flavor while keeping the drink clear, then she added a dash of orange flower water for aroma. "I wanted pure liquid sunshine in a glass," says Fairman. She also created a complementary spirit-free option, which she dubbed Basically a Salad.
2 oz. gin
½ oz. Cappelletti
½ oz. turmeric syrup
¼ oz. acid phosphate
1 dash orange blossom water
Tools: barspoon
Glass: coupe
Garnish: lime twist
Stir all of the ingredients with ice until well chilled. Strain into a chilled glass, then garnish.
Turmeric Syrup: In a medium saucepan add 2 cups water, 2 cups granulated sugar, and 2 medium pieces of fresh turmeric root, finely grated. Bring the mixture to a low simmer, then remove from heat and let steep for 10 minutes. Strain through a fine mesh strainer, then bottle and refrigerate for use within 1 month.
Nikki Fairman, FIG, Charleston, South Carolina
---
Did you enjoy this recipe? Sign up for our newsletter and get weekly recipes and articles in your inbox.