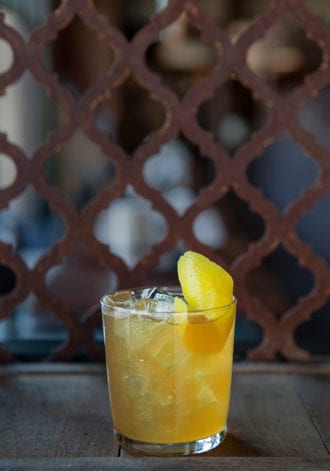 Daniel Parker Guidry drew inspiration for this simple sidra cocktail from a 1920's recipe. Parker Guidry uses Bereziartua Sagardoa cider, which is on tap at Bar Casa Vale.
1 oz. brandy
1 oz. fino sherry
½ oz. fresh lemon juice
½ oz. demerara simple syrup (2:1)
1½ oz. Spanish cider
Tools: shaker, strainer, small sieve
Glass: 12 oz. tumbler
Garnish: lemon twist
Combine the brandy, sherry, lemon juice and syrup in a shaker and fill with ice. Shake until chilled then double-strain into a chilled glass, add the Sidra and fill glass with ice. Garnish.
Daniel Parker Guidry, Bar Casa Vale, Portland, Oregon
---
Did you enjoy this recipe? Sign up for our newsletter and get our favorite drink recipes of the moment in your inbox every month.