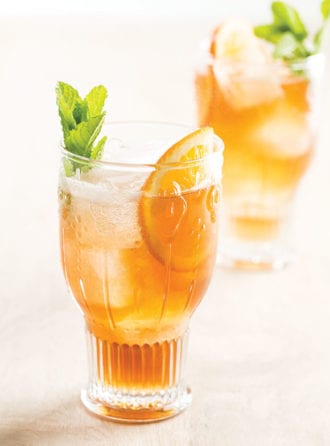 At Small Victory in Austin, Steven Robbins took the Spanish affinity for Gin & Tonics to the next logical step: substituting Spain's signature fortified wine for gin. The resulting Sherry and Tonic is gentle enough to sip all afternoon.
3 oz. amontillado sherry
1 tsp. simple syrup (1:1)
2 dashes orange bitters
3 oz. chilled tonic water (Small Victory uses Fever-Tree Indian Tonic)
1 lemon peel
Glass: large wine goblet
Garnish: mint sprig, orange wheels
Combine the sherry, bitters and syrup in a glass filled with ice. Top with chilled tonic; twist the peel over drink and discard, then garnish.
Steven Robbins for Small Victory, Austin, Texas