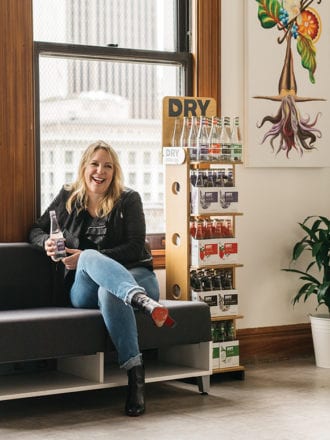 Up 12 floors in a chugging elevator, past the glass entrance, past a cold case stocked with soda and an overburdened coat rack, paneless windows show off the industrial beauty of Puget Sound—orange cranes, bloated rain clouds, barges freighted with shipping containers stacked like Legos. In one corner of this office suite in Smith Tower, Seattle's oldest skyscraper, a scrum of women converse inaudibly in a glass box conference area. Then, from the back, another young woman materializes and leads the way to Sharelle Klaus—the woman with the story.
Every proper PR strategy has one—a compelling story rooted in the company's bootstrap origins. This is Dry Sparkling's: In 2005, a temporarily teetotaling mother of four, frustrated by a lack of nonalcoholic beverage options to pair with her dinner, founded a soda startup that sold booze-free beverages that were sophisticated and not too sweet and paired well with food. And when Sharelle Klaus tells this story, something inside you wants in. It's an incantation that has scored her bigwig mentors, a talented branding team and all manner of press acclaim.
But a story alone won't inspire restaurant servers to rhapsodize about your carbonated soft drink. It won't keep big-box customers in Kansas forking over seven bucks for a four-pack. And it won't allow you to grow the carbonated beverage project you started in your kitchen into a multimillion-dollar national company, with sights set on the UK and Japan. For that, you're gonna need to make a very good soda. And the very good soda in this story starts—why not?—in Bend, Oregon.
That's where Klaus grew up. In sixth grade, her mother handed her a housewiving manual she'd received as a wedding gift and announced that "Shari" would be in charge of making dinners that summer. Sharelle, bypassing the book's instructions on how to iron your husband's shirts, taught herself to cook. Married, at 20, to fellow Seattle Pacific University student James Konsmo, she explored restaurants by scraping up enough cash for the couple to order one entrée between them. In the '90s they moved to Washington, D.C., where Klaus, who studied political science in college and relished the city's worldly verve, planned airports and other public works projects for corporate firms. Then her eldest daughter, Anna, arrived, and Klaus found herself bonding with other young moms in her neighborhood. "We would hang out—all share [one] beer among us because we were nursing," she says. When second daughter, Willa, came along a year later, the couple moved back to Seattle to be close to family.
In 1999, Klaus started a secure web portal for tweens called PlanetSquid. She discovered she was good at fundraising, branding and building a company. She also discovered that she "didn't give a shit what 13-year-olds are doing on the internet." That problem solved itself when the bubble burst and PlanetSquid exploded. But an entrepreneur was born.
Still, there were the kids. Son Zane came four years after Willa, and since she was home with the baby anyway, Klaus tried homeschooling her daughters to instill in them a love of learning, arranging the curriculum around themes like "chocolate." She channeled her ambition into elaborate meals—stirring risotto while strapped in a backpack weighted with a dozing Zane. Meanwhile, in 2004, Konsmo went to work for DaVinci Gourmet, maker of those colorfully labeled syrups that once phalanxed the back bar of coffee shops across the country.
The sort of person who enjoys vacationing solo, Klaus struggled with the stay-at-home mom thing. Married from such a young age, she felt a yearning for independence that she didn't yet understand. Sometimes she'd escape to an upscale restaurant, dinners that remained wineless, since Klaus became pregnant with her fourth child. One evening in 2004, the much-recited epiphany occurred. Scanning a short menu of sugary nonalcoholic options, Klaus realized her frustration was pointing to her best business idea yet.
She stocked up on fresh herbs, fruits and spices and started making soda. Terrible soda. So much terrible soda. Sometimes she cried. From the start, Klaus envisioned the whole Dry brand—the pretty, sophisticated bottles, the upscale flavors, the choice shelf space in high-end grocery stores. But if the soda didn't work, none of it worked. Sensing the seriousness of the situation, her husband connected Klaus to a food scientist at DaVinci. Over a long phone call, the expert walked her through it: where to order the flavor extracts, what kind of water she needed, which sweetener-to-acid ratios would yield tasty results. He shared the sobering news that she'd probably need to do a thousand trials per flavor, an estimate that proved conservative. For months, Klaus spent her nights mixing and remixing, until at last she arrived at four flavors she liked: lavender, kumquat, lemongrass and rhubarb. In 2005, she launched—heading out, restaurant to restaurant, to sell single bottles of soda.
Nicole and Jason Wilson got it right away. The owners of the ultramodern Seattle farm-to-table restaurant Crush—now closed (Jason later opened Miller's Guild in downtown Seattle)—were among the first to try Klaus' concoctions. The couple watched as she poured the soda ceremoniously into a Champagne flute and listened as she listed the foods that paired best with each flavor. "I told her she was really onto something," Jason remembers thinking, locking into the concept immediately. "I wanted to support her vision."
In 2008, the chef became a collaborator, developing 14 flavor ideas that he presented to the Dry team over a five-hour tasting. These efforts culminated in two of the company's current offerings, Vanilla Bean and Juniper Berry.
By then, Dry was already popular among Pacific Northwest culinary types—food bloggers blogged about it, baby shower hosts displayed bottles of lavender and rhubarb like centerpiece bouquets. After a sommelier at the French Laundry sampled Dry at another restaurant, Thomas Keller bestowed his blessing with an order for his Napa Valley culinary chapel. Somewhere along the way, bartenders grew curious, and Dry found its way onto top-tier cocktail menus, too. To Klaus' surprise, the subtle beverage had moved beyond the scope of her story—bar clients told her they loved mixing premium spirits with a soda that didn't slap the palate with sweetness and overpower the booze. Younger drinkers, meanwhile, embraced the soda as a sophisticated mixer to dress up the cheaper stuff.
But hipster cred only takes a beverage brand so far. "There are plenty of people who can create a product," says Dan Ginsberg, former CEO of Red Bull North America and one-time Dry board member. "The challenge is the route to market and distribution. [Sharelle] has a great product, but at the time, to some, the ceiling seemed low. She needed to convince buyers to put it on the shelf and distributors to carry the product. She pushed, and pushed, and pushed and then, over time, the category came to her."
Enormous obstacles abounded. The Great Recession hit hard in the late 2000s, forcing an agonizing downsizing of her tight team at Dry. By 2012, Klaus and Konsmo divorced. Distribution was an ongoing battle, requiring countless phone calls, some of them ugly. "My first distributor outside of the Northwest called me a relentless bitch," recalls Klaus. "I'd been called that a few times. I remember saying to him, 'If I'm not relentless, how is this going to get done?' "
But as the public health campaign against super-sugary soft drinks gathered momentum, national grocery chains finally grokked the potential of food-friendly, natural drinks like Dry. Today the soda is sold at more than 1,200 Target stores, along with grocery chains Kroger and Safeway. You can buy it at CVS Pharmacy, 7-Eleven and select Costcos. If Dry can reach Klaus' next goal—the $100 million mark—it will be thanks to that scrum in Smith Tower, plotting around the conference table.
Klaus says she's now working to get out of the way of the day-to-day and do the CEO thing—focusing on big-picture stuff. Her youngest son, Burgon, is a teenager now, and Klaus has started dating. Even then, wherever Klaus goes, Dry Sparkling has a way of following. "Most of my Tinder dates end with me giving advice," she admits, "on how to run a company."
---
Like what you see? Get more of the best of liquid culture when you sign up for our bi-monthly magazine. Subscribe now and save up to 59%—it's just $21.95 for one year or $32.95 for two years. Click here for details.