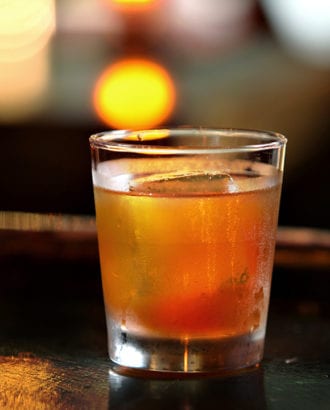 A house favorite since Seamstress opened, The Mortimer & Mauve is a three-ingredient cocktail that evokes the flavors of fall. "I wanted to play up the spice factor and layer on three different types from the rye, chai and ginger," says bartender Pamela Wiznitzer.
1¼ oz. rye whiskey
1¼ oz. chai-infused sweet vermouth
½ oz. ginger liqueur (Seamstress uses Barrow's Intense Ginger Liqueur)
Tools: mixing glass, barspoon
Glass: rocks
Combine all the ingredients in a mixing glass and stir with ice until chilled. Strain into a glass over a large ice cube. Use an orange twist to extract oils, then discard the peel.
Chai-Infused Vermouth: Pour 1 (750mL) bottle of sweet vermouth into a pitcher or decanter and add 4-5 bags of your favorite chai tea. Allow to sit for 30 minutes. Take out the bags and pour the infusion back into the bottle.
Pamela Wiznitzer, Seamstress, New York City