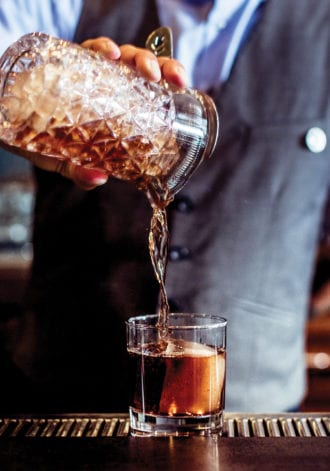 Smoky scotch and bittersweet Campari combine for the perfect cold-weather sipper from Vegas.
1½ oz. scotch
½ oz. Campari
½ oz. dry vermouth
½ oz. coffee liqueur
2 dashes Bittermens Mole bitters
Tools: barspoon, atomizer
Glass: Old Fashioned
Garnish: orange twist
Stir all of the ingredients in a mixing glass with ice until chilled. Strain into a glass holding a large ice cube. Use an atomizer to spray the drink with a smoky scotch, then garnish. (Alternately, drip several drops of scotch atop the drink, then garnish.)
Tonia Guffey-Stamper, The Kitchen at Atomic, Las Vegas
---
Did you enjoy this article? Get more of the best of liquid culture when you sign up for a print or digital subscription to Imbibe Magazine. Click here for special savings!