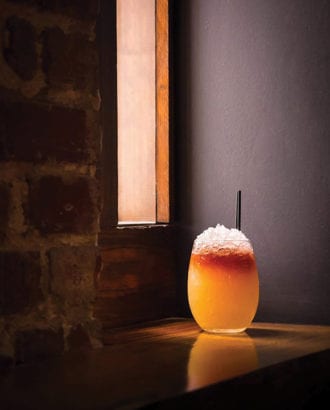 "This cocktail was inspired by a smoked pineapple flan I was tinkering with for our dessert list," says Gallo Pelón Mezcaleria's Marshall Davis. "After swizzling, you've got a tropical potion with just enough overproof heat to keep you on your toes with the sensation of caramelized pineapple fresh off the grill."
1 oz. mezcal (Gallo Pelón uses Del Maguey Minero)
1 oz. gold or Jamaican rum
1 oz. fresh pineapple juice
¾ oz. fresh lemon juice
¾ oz. orgeat
2 dashes chocolate bitters
5-6 dashes Angostura bitters, floated
Tools: swizzle stick
Glass: stemless wine glass
Garnish: five-spice powder
Combine all the ingredients, except the Angostura bitters, in a stemless wine glass and fill halfway with crushed ice. Stir with a swizzle stick, then add another scoop of crushed ice and float the Angostura bitters on top. Add a final mound of crushed ice and sprinkle with five-spice powder.
Marshall Davis, Gallo Pelón Mezcaleria, Raleigh
---
Did you enjoy this recipe? Sign up for our newsletter and get our favorite drink recipes of the moment in your inbox every month.