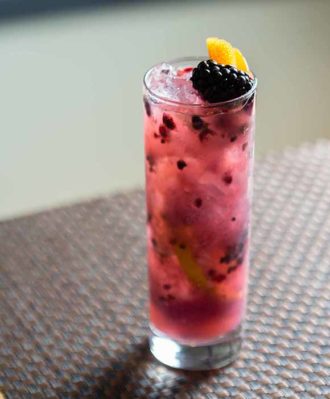 Offering a twist on a summertime staple, Denver's Izakaya Den swaps wine for saké in their fruity sangria.
1½ oz. Junmai Ginjo saké (Izakaya Den uses Momokawa Diamond)
1¼ oz. Cognac
¾ oz. lychee purée
½ oz. fresh lime juice
¼ oz. simple syrup (1:1)
4 orange wheels
6 ripe blackberries
Tools: muddler, shaker
Glass: Collins
Garnish: blackberry and orange slice
Muddle the oranges and blackberries in a shaker. Combine the remaining ingredients with ice, shake to chill, pour into a Collins glass and garnish.
Lychee purée: Blend 36 oz. of canned lychee with 22 oz. of triple sec. The remaining purée will keep in the fridge for about a week. Alternatively, use ½ oz. of premade lychee syrup and ¼ oz. of triple sec.
Yasu and Toshi Kizaki, Izakaya Den, Denver, CO