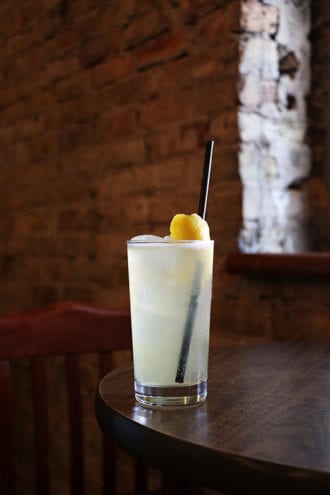 Preserved lemons lend an ever-so-slight hint of umami to this saké cocktail.
2 oz. saké
¾ oz. honey
½ oz. fresh lemon juice
¼ preserved lemon (cut into a wedge)
1 barspoon preserved lemon juice
Club Soda
Tools: shaker, strainer
Glass: Collins
Garnish: lemon peel
Shake saké, honey, lemon juices, and preserved lemon wedge without ice to emulsify the honey into the mixture. Add ice and shake to chill. Strain into a Collins glass over fresh ice. Top with club soda and garnish.
Preserved Lemons: Measure out 150 grams salt and 83 grams sugar and place to the side. Cut the ends off the 5 lemons and begin to quarter them, but only make the cuts ¾ of the way through the lemon. Sprinkle a little of the measured salt and sugar in a mason jar so that it coats the bottom. Rub more of the salt and sugar inside the cuts you made into the lemons (preferably over something to catch any salt and sugar that falls) and toss them in the jar. Dump the remaining salt and sugar on top of the lemons in the jar and seal overnight.
The next day, juice 2 cups of lemon juice and pour it into the jar. Fill the remaining volume with water and cap and date. Let sit in a cold place for 1 week.
Julieta Campos, The Whistler, Chicago
---
Did you enjoy this recipe? Sign up for our newsletter and get our favorite drink recipes of the moment in your inbox every month.