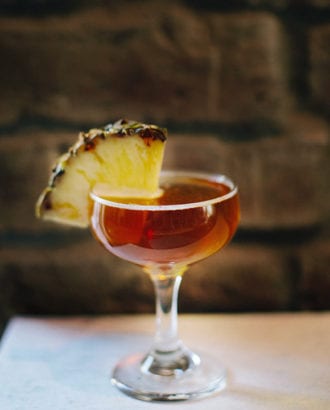 This festive punch recipe is easy to scale up for holiday parties. Brandy, rum and black tea syrup create a wintry trio of flavors, while sparkling wine brightens it all up.
1 oz. rum
1 oz. brandy
2 oz. spiced black tea syrup
1 oz. sparkling wine, chilled
Tools: shaker, strainer
Glass: coupe
Garnish: pineapple wedge
Shake the rum, brandy and syrup with ice in a shaker. Strain into a chilled coupe, top with sparkling wine, then garnish.
Black Tea Syrup: Prepare a pot of your favorite black tea. While the liquid is still hot, add 1 cinnamon stick, 1 quartered orange, 1 quartered lemon, 8 ounces of brown sugar and 5 cloves and stir until the sugar dissolves. Allow mixture to steep until the liquid comes to room temperature. Strain out the spices, bottle and refrigerate for up to 2 weeks.
Paul Yellin, Cane Rhum Bar and Caribbean Kitchen, Charleston, South Carolina
---
Give the gift of Imbibe this holiday season. Gift subscriptions are only $19.95 each after your first $21.95 gift subscription purchase, plus you'll receive a free download of our Holiday Punch Guide, AND through 12/31, $1 of every online subscription order goes to the Red Cross! Click here for details.