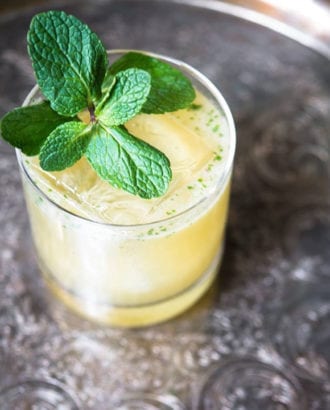 The ultimate choose your own adventure cocktail, the smash is historically open to interpretation. At Harding's in New York City, beverage director Derrick Turner likes to keep things simple with a spicy rye and bouquet of fresh mint, but the bar will swap in any spirit a guest chooses.
2 oz. rye whiskey
½ oz. fresh lemon juice
½ oz. simple syrup (1:1)
Mint
Tools: shaker, strainer
Glass: rocks
Garnish: mint
Muddle the mint and simple syrup in the bottom of a mixing glass. Add ice, whiskey and lemon juice and shake until chilled. Strain into a rocks glass over fresh ice.
Derrick Turner, Harding's, New York City
---
Get more great cocktail recipes when you sign up for our bi-monthly magazine. Subscribe now and save up to 59%—it's just $21.95 for one year or $32.95 for two years. Click here for details.